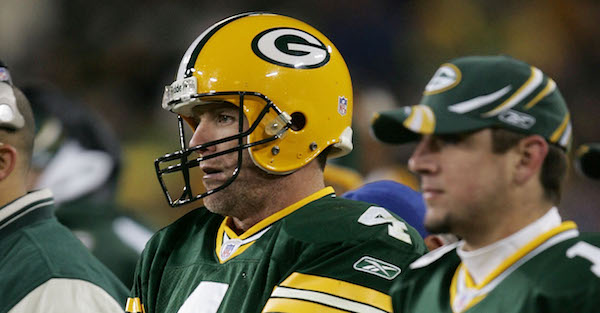 Jonathan Daniel/Getty Images
GREEN BAY, WI - NOVEMBER 6: Quarterbacks Brett Favre #4 and Aaron Rodgers #12 of the Green Bay Packers watch the final minutes of a game against the Pittsburgh Steelers from the sideline November 6, 2005 at Lambeau Field in Green Bay, Wisconsin. The Steelers defeated the Packers, 20-10. (Photo by Jonathan Daniel/Getty Images)
It's a quarterback-starved market, and that's set up nicely for the New England Patriots.
Jimmy Garoppolo is the hottest gunslinger on the market, and as his stock is rising as reports of a less-than stellar quarterback class entering the NFL Draft emerges. And his current teammates certainly think a good bit about him, just take it from wideout Julian Edelman, via Pro Football Talk:
"I'm not a paid G.M. so I don't know the whole value thing. As far as a guy that I could play with every single day, Jimmy Garoppolo, I mean, the guy's a stud," Edelman said on NFL Network. "He went out and played in the regular season and he played very well. He's got that kind of gunslinger confidence. That Brett Favre, Aaron Rodgers kind of confidence. He practices hard, he prepares hard. He's a good kid, he's young. I think he's a good player."
The Chicago Bears, San Francisco 49ers, Houston Texans, Cleveland Browns and Buffalo Bills are rumored to be interested in Garoppolo.
ESPN's Adam Schefter thinks the Patriots will receive a first and fourth-round pick for Garoppolo, which is the same price the Minnesota Vikings paid for Sam Bradford earlier this season. And the move has everything to do with Tom Brady:
We'll see in the coming weeks if any team can pull the trigger.