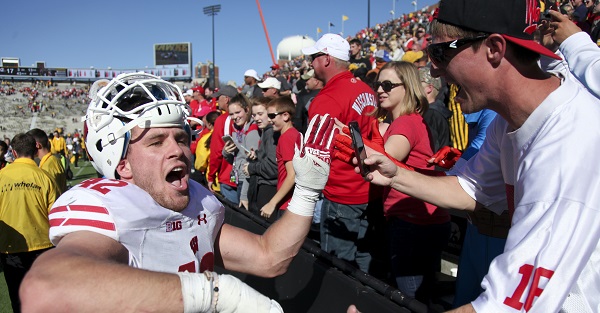 Matthew Holst/Getty Images
IOWA CITY, IOWA- OCTOBER 22: Linebacker T.J. Watt #42 of the Wisconsin Badgers celebrates with fans after defeating the Iowa Hawkeyes on October 22, 2016 at Kinnick Stadium in Iowa City, Iowa. (Photo by Matthew Holst/Getty Images)
J.J. Watt wasn't supposed to be the best defensive player in the NFL. That was evidenced by the fact that the former Wisconsin standout fell to the No. 11 overall pick before being snapped up by the Houston Texans and there were many detractors to his game as he entered the professional ranks.
Fast forward to 2017 and T.J. Watt, the younger brother of J.J. Watt, has similar concerns to the point where some do not believe he will be a first-round selection. However, Mike Freeman of Bleacher Report paints a different picture, suggesting that there is a contingent that is much higher on the Wisconsin outside linebacker.
More than a few scouts said they believe T.J. Watt, of Wisconsin and brother to J.J. Watt, eventually will be seen as one of the top three players in this draft, if not the best.

You read that right.

It wasn't just the Watt name or the combine performance that impressed the scouts; it was also what they saw on video. One scout called Watt "the second- or third-most impressive guy I saw on the tape."
Watt was an All-American in 2016 for the Badgers, racking up 11.5 sacks and 15.5 tackles for loss during his junior season. While it seems far-fetched to suggest that he could actually live up to his brother's considerable legacy, the younger Watt is definitely an NFL-caliber athlete with the college production to match the hype.
It remains to be seen where T.J. Watt will actually land when Roger Goodell begins to call names for the 2017 NFL Draft but he might be a monster if you believe some of the scouting around him.