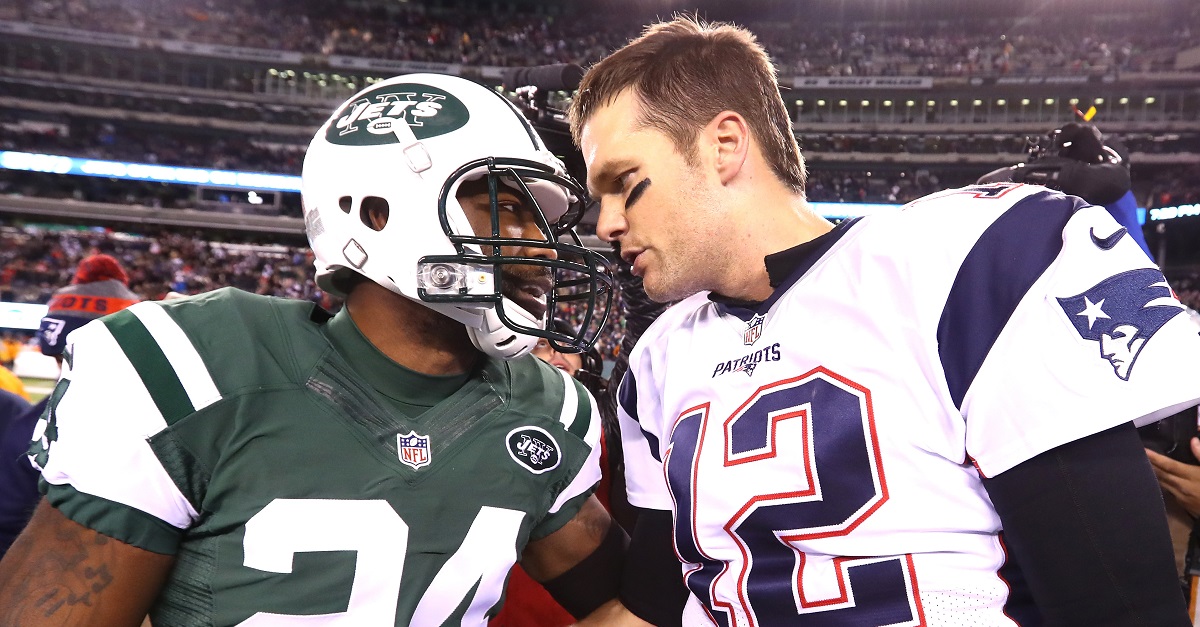 Al Bello/Getty images
EAST RUTHERFORD, NJ - NOVEMBER 27: (L-R) Darrelle Revis #24 of the New York Jets talks with Tom Brady #12 of the New England Patriots after their game at MetLife Stadium on November 27, 2016 in East Rutherford, New Jersey. The New England Patriots defeated the New York Jets with a score of 22 to 17. (Photo by Al Bello/Getty Images)
The New England Patriots have built up a reputation as being a dirty or cheating franchise, but it looks like they might be the victims of the latest NFL investigation. Manish Mehta of The New York Daily News is reporting that the New York Jets tampered with free agent-to-be Darrelle Revis in 2015. He was coming off a Super Bowl win with the Patriots in the 2014 season and apparently took part in some seedy dealings to end up back with the Jets — a team he spent his first six seasons with in the league.
RELATED: After robbing Jets of $17 million, rumors surrounding Revis are stunning
Mehta reports that the Jets used ?private cell phones and face-to-face covert meetings at the 2015 Scouting Combine? to negotiate with Revis at a time when Revis was still a Patriot — a clear tampering job. While this may seem like a relatively commonplace practice for teams, it probably wasn't a great look for Jets owner Woody Johnson who had just said that he would "love for Darrelle to come back" before the Combine.
RELATED: NFL fines Jets $100,000 for Revis tampering charge
The Jets still have Revis on the roster, but could release him before March 11 in order to save some money. If he's on the roster by that date, he would be owed a $2 million roster bonus with the Jets paying him another $15 million for his salary. They will have to pay him $6 million regardless as that much is guaranteed money for him.
[h/t Pro Football Talk]