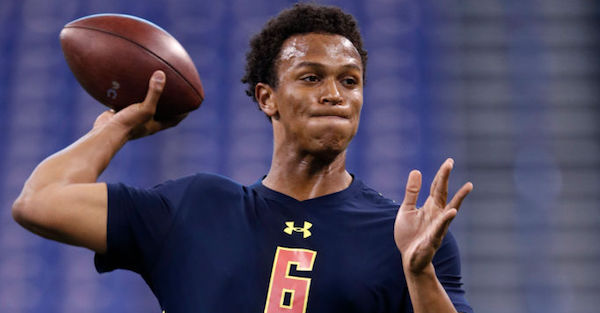 Joe Robbins/Getty Images
INDIANAPOLIS, IN - MARCH 04: Quarterback DeShone Kizer of Notre Dame throws during a passing workout on day four of the NFL Combine at Lucas Oil Stadium on March 4, 2017 in Indianapolis, Indiana. (Photo by Joe Robbins/Getty Images)
Former Notre Dame quarterback DeShone Kizer has been viewed as one of the top quarterbacks in the upcoming NFL Draft, but he has been sliding in recent mock drafts.
A recent mock draft from Bleacher Report has three QB's being drafted in the first round, but none of them are Kizer—despite the fact that Bleacher Report's Matt Miller has Kizer as his No. 17 overall player.
Related: Brian Kelly pulled no punches in calling out NFL draft prospect DeShone Kizer 
According to MMQB's Albert Breer, there's a reason for Kizer's recent slide in mock drafts. An anonymous AFC head coach claimed Kizer has some "diva qualities."
"He's got the size, the arm talent and he's very bright. But there's a disconnect there. There are diva qualities there, and he seems to get voices in his head, like he's fighting who he is. And once the cycle starts, he can't get himself right."
Breer also said scouts have told him Kizer might need a couple of years to grow as an NFL QB, which means drafting him in the first round could be really tough for teams. Mitchell Trubisky, Deshaun Watson and Patrick Mahomes are now regarded as safer picks than Kizer, and he could be the fourth or fifth QB taken.
Notre Dame coach Brian Kelly said Kizer needed more time in college, but he understood that Kizer had to make a business decision.
Even if Kizer is drafted in the first round, it's likely he'd be taken by a team with an older starting QB, such as the Arizona Cardinals. Perhaps after a year or two behind a veteran starter, Kizer will be ready to lead a team on his own.
(h/t Bleacher Report)