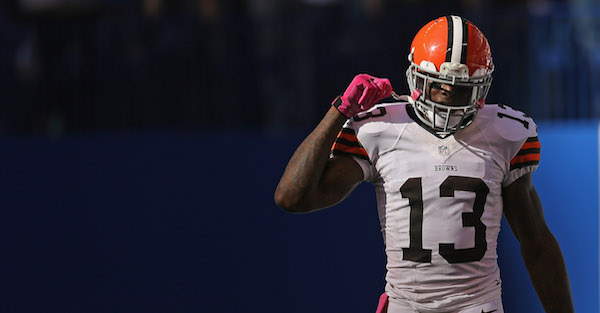 Jonathan Daniel/Getty Images
INDIANAOPLIS, IN - OCTOBER 21: of the Indianapolis Colts of the Cleveland Browns at Lucas Oil Stadium on October 21, 2012 in Indianapolis, Indiana. The Colts defeated the Browns 17-13. (Photo by Jonathan Daniel/Getty Images)
Cleveland Browns wide receiver Josh Gordon's return to the NFL will have to be put on hold after the team announced on Thursday that the wideout will step away from football to enter a rehab facility, per Fox 8:
"After careful thought and deep consideration I've decided that I need to step away from pursuing my return to the Browns and my football career to enter an in-patient rehabilitation facility. This is the right decision for me and one that I hope will enable me to gain full control of my life and continue on a path to reach my full potential as a person. I appreciate the support of the NFL, NFLPA, the Browns, my teammates, my agent and the community through this extremely challenging process."
Gordon was eligible to return October 9 against the New England Patriots after serving a four-game suspension.
Gordon has been suspended for 42 of his last 77 possible games dating back to his senior year at Baylor, per Cleveland.com. His four-game suspension stems from a reported failed drug test.
As a rookie in 2012, Gordon notched 50 receptions for over 800 yards and five touchdowns. He followed that up with a 1,600-yard season over just 14 games in 2013. He appeared in just five games for the Browns in 2014, registering 300 yards through the air.
He missed all of last season, but the 25 year old still proves to be one of the most dynamic wideouts in the league.