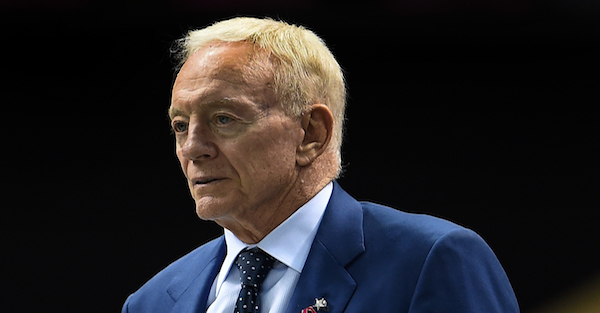 Stacy Revere/Getty Images
NEW ORLEANS, LA - OCTOBER 04: Owner of the Dallas Cowboys Jerry Jones watches from the sidelines during the first quarter against the New Orleans Saints at Mercedes-Benz Superdome on October 4, 2015 in New Orleans, Louisiana. (Photo by Stacy Revere/Getty Images)
The next logical question in the whole national anthem protest debate, as it pertains to the NFL, is definitely whether or not some owners are ordering players to stand.
It's also logical to assume that it has happened and will continue to. Only there is no rule or labor agreement that would allow the league to enforce it. So even if an owner is strongly against it, he simply has no real say in the matter.
Seattle Seahawks wide receiver Doug Baldwin confirmed to PFT that a number of NFL owners have told players to stand for the anthem, and one even demanded it.
On HBO's Any Given Wednesday, Baldwin said about the anthem issue, "some owners have taken a stand and told players to do certain things."
"…The one quote that I was informed of was, ?You?re going to stand on the line with your hand on your heart and you?re going to sing the National Anthem because this is my stage.??
RELATED: Even Jerry Jones can't believe the Cowboys are 3-1
Although Baldwin wouldn't specify which owner he was quoting, it certainly had the vocal stylings of Dallas Cowboys owner Jerry Jones, the only NFL owner, incidentally, to openly express concern over the protests.
Given that Jones seems to rule the organization with an iron fist, it'll be interesting to see what goes down on the Cowboys sideline before games for a little while.