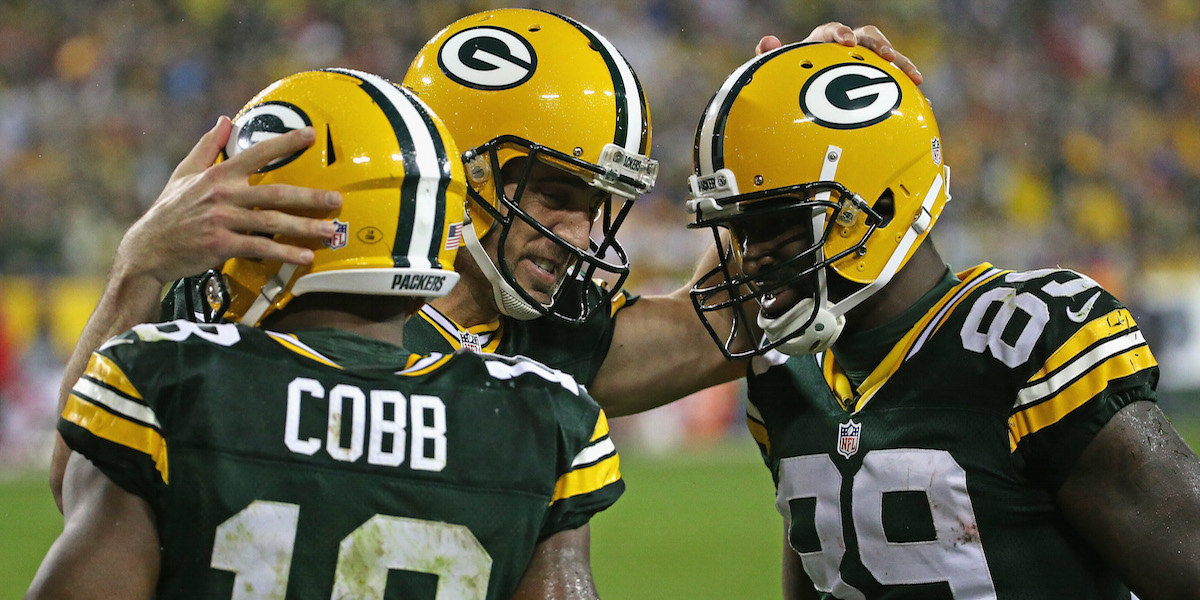 Jonathan Daniel/Getty Images
GREEN BAY, WI - SEPTEMBER 28: Aaron Rodgers #12 of the Green Bay Packers congratulates Randall Cobb #18 and James Jones #89 after a touchdown against the Kansas City Chiefs at Lambeau Field on September 28, 2015 in Green Bay, Wisconsin. The Packers defeated the Chiefs 38-28. (Photo by Jonathan Daniel/Getty Images)
A new era is arriving with the Green Bay Packers, as long-time personnel head Ted Thompson will not be returning to the same role in 2018. With that as the backdrop, one of the most stable organizations in the NFL announced its new front office make-up on Monday and it is headlined by the promotion of Brian Gutekunst to the role of general manager.
In the team's official statement, Gutekunst said the following:
"First, I'd like to thank my mentor, Ted Thompson, for his friendship, and I am happy that we will continue to have the chance to work together. I want to thank Ron Wolf for giving me my first opportunity with the Packers, and of course Mark Murphy for the faith and trust he has placed in me moving forward. And finally, I must thank my wife, Jen, and our children for their constant sacrifice and unwavering support despite all of the time I have spent on the road and away from home. I look forward to getting to work with the rest of our talented personnel department and using every avenue available to build the Packers into a championship team again."
To aid in his development as the lead executive, Gutekunst will be flanked by Russ Ball as the team's executive vice president and director of football operations, with the charge to "manage the Packers' salary cap and serve as the chief contract negotiator while continuing to oversee several areas in football operations."
Within the announcement, President and Chief Executive Officer Mark Murphy said the following about the structure and the moves looking ahead to 2018 and beyond.
"The process of identifying our next General Manager gave us the opportunity to analyze our entire football operation. While we have enjoyed a lot of success, we need to improve. With that in mind, the head coach, General Manager and executive vice president/director of football operations will report to me moving forward. While I understand this is a departure from the Packers' current structure, it will serve to increase the breadth and frequency of communication and collaboration. Ultimately, it will make the Packers better."
As long as Aaron Rodgers is around, the Packers should be in great shape, though it will be interesting to see how the new regime differs from the draft-based focus under Thompson. Change is always interesting in the NFL, but when it happens in Green Bay, it is doubly intriguing.