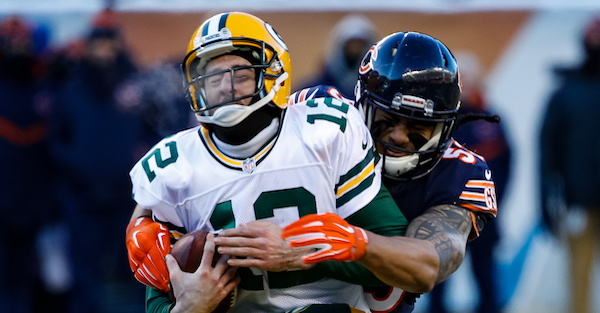 Joe Robbins/Getty Images
CHICAGO, IL - DECEMBER 18: Quarterback Aaron Rodgers #12 of the Green Bay Packers is sacked by John Timu #53 of the Chicago Bears in the fourth quarter at Soldier Field on December 18, 2016 in Chicago, Illinois. The Green Bay Packers defeated the Chicago Bears 30-27. (Photo by Joe Robbins/Getty Images)
Temperatures were outrageously cold for several NFL games on Sunday, and it was especially frigid during the game between the Green Bay Packers and Chicago Bears at Soldier Field.
Related: Bundle up, because Sunday could offer one of the coldest NFL games ever
Packers linebacker Jake Ryan's helmet cracked during the game because it was so cold.
The Packers won the game 30-27 on a Mason Crosby field goal as time expired. At least they didn't play in Green Bay, where the windchill would have been even worse.
(h/t SB Nation)