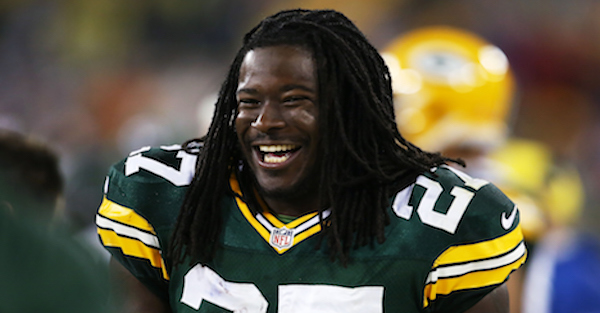 GREEN BAY, WI - OCTOBER 2: Eddie Lacy #27 of the Green Bay Packers smiles on the sidelines during the fourth quarter of their game against the Minnesota Vikings on October 02, 2014 at Lambeau Field in Green Bay, Wisconsin. The Packers defeated the Vikings 42-10. (Photo by John Konstantaras/Getty Images) *** Local Caption *** Eddie Lacy
Paired with injuries and uneven play, Green Bay Packers running back Eddie Lacy finished his third-year in the NFL with career-lows across the board.
Lacy carried the ball 187 times for 758 yards and just three touchdowns.
Normally relatively reserved with his comments, head coach Mike McCarthy didn't mince any words when discussing Lacy's disappointing season, per ESPN:
"Eddie Lacy, he's got a lot of work to do. His offseason last year was not good enough, and he never recovered from it," McCarthy said during his season-ending news conference two days after his team's 26-20 overtime loss to the Arizona Cardinals on Saturday in the NFC divisional playoffs. "He cannot play at the weight he was at this year."
At one time an every-down-back, Lacy lost carries to James Starks and was benched twice. Starks ran for 601 yards and two touchdowns while splitting carries with Lacy.