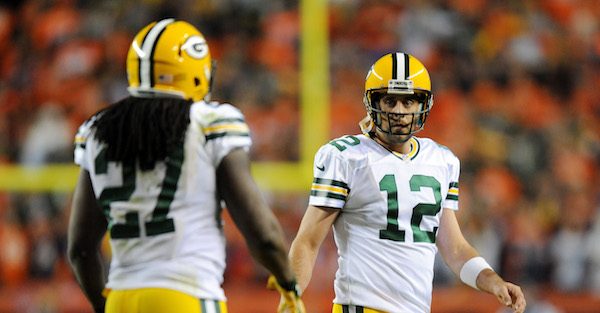 Dustin Bradford/Getty Images
DENVER, CO - NOVEMBER 01: Quarterback Aaron Rodgers #12 of the Green Bay Packers looks on alongside teammate Eddie Lacy #27 during the second quarter against the Denver Broncos at Sports Authority Field at Mile High on November 1, 2015 in Denver, Colorado. (Photo by Dustin Bradford/Getty Images)
The Green Bay Packers offense has struggled through the first five weeks of the season, and it likely won't get much better after suffering some devastating injury news on Thursday.
While it was widely assumed Eddie Lacy would at least miss the Packers' Thursday night tilt with the Chicago Bears and he'd return some time later, Ian Rapoport reported the standout back would go on Injured Reserve:
This comes on the heels of reports that Lacy has gained back all the weight he shredded during the offseason:
Despite Aaron Rodgers' struggles and the running game being middle-of-the-road at best, the Packers still hold the No. 6 spot in the NFC and a playoff position.
After trading for Knile Davis and with James Starks out at least a month, the Packers could be left relying even more on Rodgers than before.
The quarterback is having one of his worst statistical seasons of memory, with a quarterback rating of 88, while tossing for 10 touchdowns and four interceptions. Passing yards-wide, Rodgers is No. 26 in the NFL, behind guys like Brian Hoyer (who has started only four games) and rookie Dak Prescott.