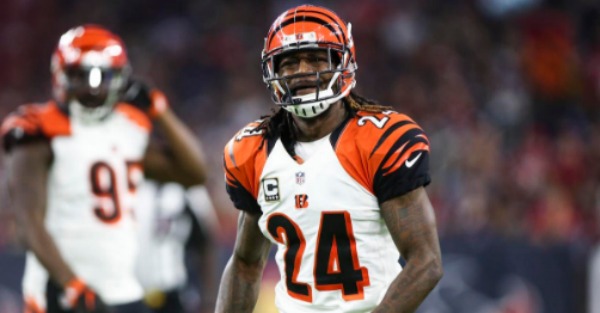 Twitter Screen Shot
Adam "Pacman" Jones, the talented Cincinnati Bengals cornerback who has had his run-ins with the law in the past, was arrested early this morning and faces a myriad of charges and has been charged with one felony.
Jones was arrested in connection with  assault, disorderly conduct and obstructing official business — all misdemeanors, the Cincinnati Enquirer reported. Jones, according to the Enquirer, has now been charged a felony count of harassment with a bodily substance as authorities allege he spit on a nurse while at jail.
Jones' attorney said, at his arraignment, that his client "vehemently denies" the charges.
According to the Enquirer, the assault arrest stems from Jones allegedly pushing a man and poking him in the eye, although the newspaper did not provide additional details beyond that. The other charges he faces stem from his alleged behavior after that incident. The Enquirer said that, according to complaints it reviewed, Jones was belligerent when he refused to stop for officers, pulled away from officers, and wouldn't get in the police car and was head-butting and kicking.
Jones, 33, has had numerous run-ins with the law. He was suspended for the entire 2007 season without pay (a loss of more than $1.2 million) following violations of the league's personal conduct policy. He pled guilty to a disorderly conduct charge in 2011, and was found not guilty of an assault charge in 2013.
Jones inked a three-year, $22 million contract that expires at the end of the 2018 season. Regardless of the outcome of the case, the NFL is sure to step in, and it's reasonable to wonder whether discipline from the league would results in the end of his Bengals — and football — career, given his age.