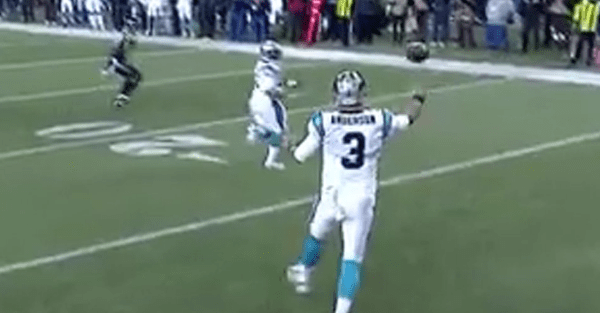 Twitter Screen Shot
Cam Newton did something to make Carolina Panthers' coach Ron Rivera mad, so coach sat the star quarterback for one series at the start of Sunday night's game against the Seattle Seahawks.
One series ended up being one play.
Backup QB Derek Anderson started the contest, and, on the first play of a game, threw a screen to fullback Mike Tolbert, who promptly let the pass go right off his hands and into the loving arms of Mike Morgan, the Seahawks' linebacker.
The move stunned everyone. TV announcers Al Michaels and Chris Collingsworth had no idea how to explain it to viewers, though various beat reporters said this:
NBC reported at halftime that Rivera benched Newton for a "dress code" violation. Shoes? Shirt? Who knows. Anyway, Rivera probably had enough after seeing this:
Seattle ended up kicking a field goal and getting three points out of the play.
Twitter was as perplexed as Michaels, Collingworth, and most likely, a majority of the football watching audience.