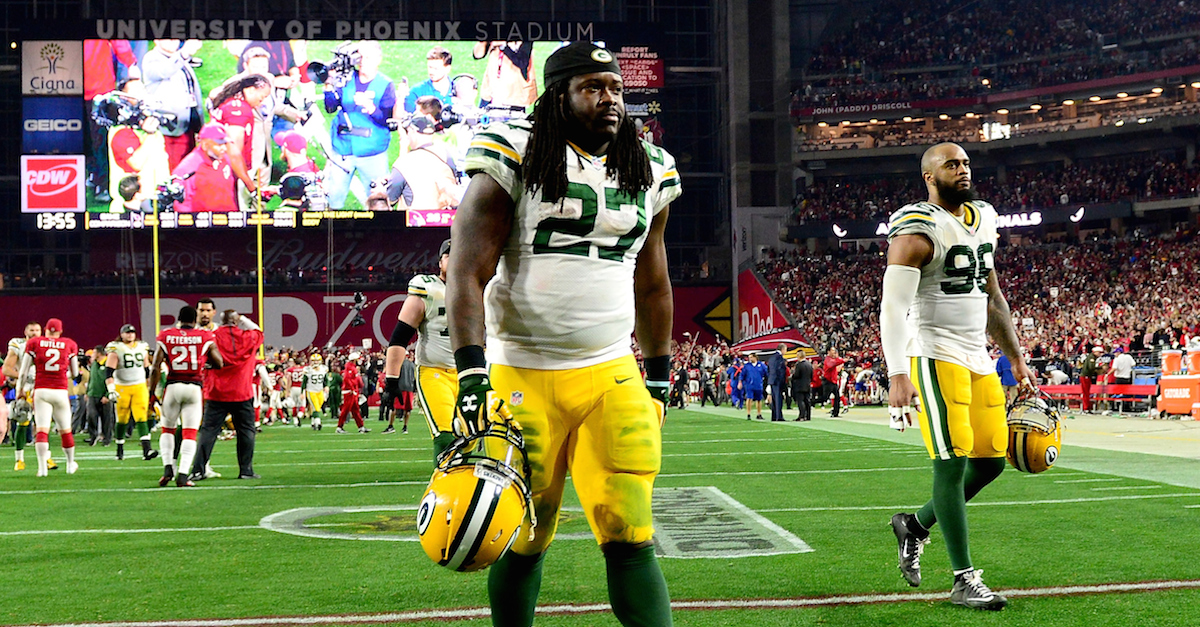 Jennifer Stewart/Getty Images
GLENDALE, AZ - JANUARY 16: Running back Eddie Lacy #27 and defensive end outside linebacker Mike Neal #96 of the Green Bay Packers walk off the field after losing in overtime to the Arizona Cardinals 26-20 in the NFC Divisional Playoff Game at University of Phoenix Stadium on January 16, 2016 in Glendale, Arizona. (Photo by Jennifer Stewart/Getty Images)
After dropping weight last season to a trim 234 pounds, Eddie Lacy has reportedly ballooned to well over 260 pounds during the offseason.
While head coach Pete Carroll talked up liking his running back big, incentives in Lacy's contract includes dropping some of the wight he's gained:
Despite the massive weight gain, Lacy is reportedly ready to come in and show he's not a "fluke," per Seahawks.com:
"Just want to come out and showcase what I can do, prove that I'm not a fluke, that I can do what I do and do it really well."

"I'm very motivated to prove myself," he said. "I know what I'm able to do, but I just want to go out and show everybody that I can do it and will do it. I just can't wait to get my chance."
Lacy, a former second-round pick, has started 48 games over the past four seasons. After consecutive 1,000-yard seasons to start his career, Lacy dropped off to just over 700 yards two years ago. He plummeted to just 360 yards in five starts last season with zero scores.
He replaces Marshawn Lynch as Seattle's workhorse as a between-the-tackles back.
"I've always favored Marshawn Lynch's running style, and that's something Pete Carroll definitely likes. I'm going to come in and do my best impression of him and just bring my hard work and my hard running style to the table," Lacy said, per the team's website.
And it's that big, bulky style that Seahawks coach Pete Carroll likes, via ESPN Radio:
"Yeah, well, he's a big back, John," Carroll replied, as transcribed by SEC Country. "He's a big guy, you know? And there ain't nothing wrong with that. But there will be a real concerted effort to make sure he's at his very best. This is a hard time for him because he's working some rehab right now, but he's well aware of our expectations and the standards we're setting and that's all part of it.

"We would not have done this if we didn't have a clear understanding of how we're going to go forward. This is a big deal for him, you know, it's a one-year contract for him. This is a chance for him to prove it and show where he is in the league in and how he fits in."
Lacy was knocked out for the season in April after suffering an ankle injury earlier in the year.
Carroll's comments come in stark contrast to what Green Bay Packers head coach Mike McCarthy had to say at the end of the year just two seasons ago about his former back, per ESPN:
"Eddie Lacy, he's got a lot of work to do. His offseason last year was not good enough, and he never recovered from it," McCarthy said during his season-ending news conference two days after his team's 26-20 overtime loss to the Arizona Cardinals on Saturday in the NFC divisional playoffs. "He cannot play at the weight he was at this year."
We'll see just how motivated Lacy is when he enters training camp.