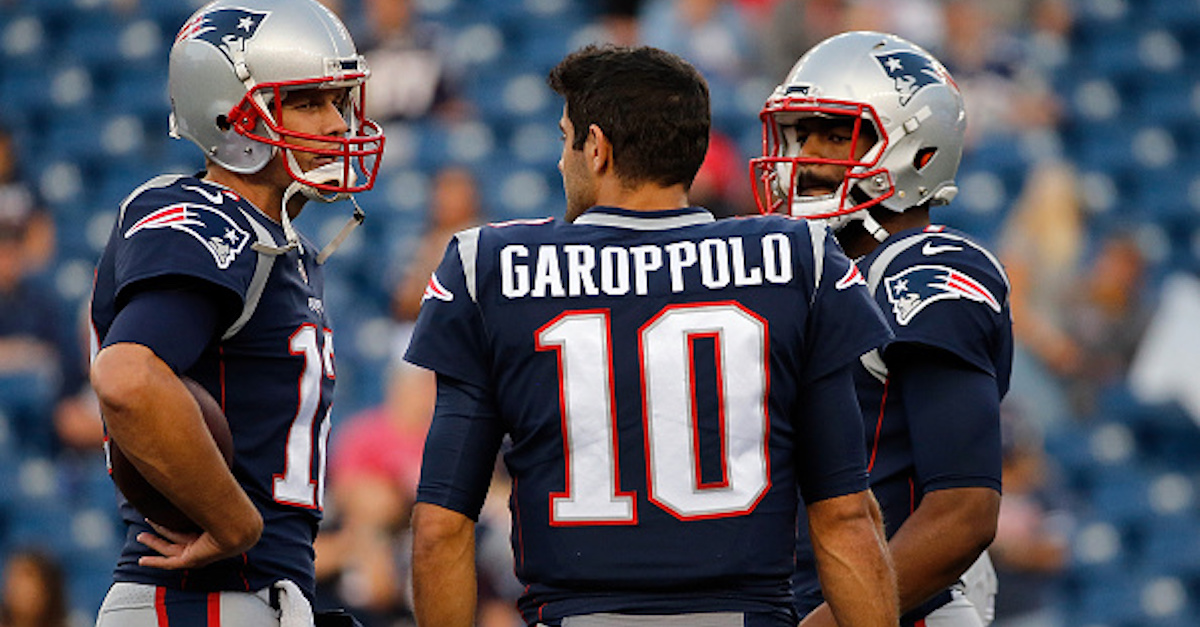 Jim Rogash/Getty Images
FOXBORO, MA - AUGUST 31: Jimmy Garoppolo #10, Jacoby Brissett #7 and Tom Brady #12 of the New England Patriots chat before a preseason game with the New York Giants at Gillette Stadium on August 31, 2017 in Foxboro, Massachusetts. (Photo by Jim Rogash/Getty Images)
According to ESPN NFL reporter Field Yates, the Patriots have decided to trade backup quarterback Jacoby Brissett. In return for the second-year signal-caller, New England will be receiving wide receiver Phillip Dorsett from the Indianapolis Colts.
Brissett, who played college ball at N.C. State, was for all intents and purposes an investment pick for the Patriots. They took him No. 91 overall in the 2016 NFL Draft (third round) and he only played in three games in 2016, completing 34-of-55 passes for 400 yards and no touchdowns.
Most recently, New England decided to feature him as the sole quarterback in its preseason game against the New York Giants. Brissett completed 28-of-39 passes for 341 yards, four touchdowns, and an interception, a performance good enough to make him an attractive trade piece — and the trade was made.
Colts' quarterback Andrew Luck is unlikely to play in Week 1, so it makes sense that Indianapolis brought in a quarterback to backup, and perhaps push, likely starter Scott Tolzein.
In Dorsett, the Patriots are getting a third-year wideout who has caught 51 passes for 753 yards and three touchdowns in two seasons. Dorsett was a former first-round pick.