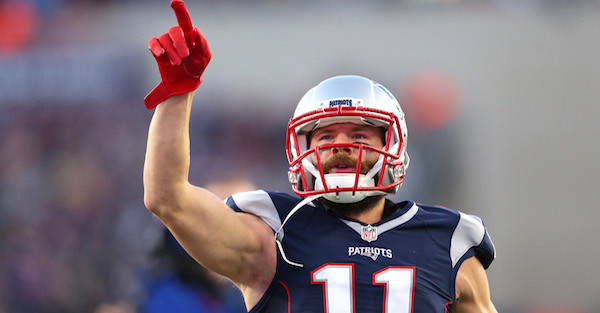 Jim Rogash/Getty Images
FOXBORO, MA - JANUARY 16: Julian Edelman #11 of the New England Patriots takes the field against the Kansas City Chiefs during the AFC Divisional Playoff Game at Gillette Stadium on January 16, 2016 in Foxboro, Massachusetts. (Photo by Jim Rogash/Getty Images)
The New England Patriots will take the field against the Buffalo Bills for the final time without Tom Brady, meaning they need just one healthy quarterback to get through the contest.
According to Adam Schefter, rookie quarterback Jacoby Brissett will get the start despite dealing with an ailing thumb. Jimmy Garoppolo, who was thought to have made progress from a sprained AC joint, will reportedly be inactive.
That leaves wideout Julian Edelman at reserve quarterback behind Brissett.
Original reports noted Brissett would need surgery for his thumb injury, but he'll look to play through the pain on Sunday against the Bills. If he is hampered by the injury or struggles against Buffalo, it will be interesting to see how quickly Josh McDaniels and Bill Belichick consider swapping him out for Edelman.