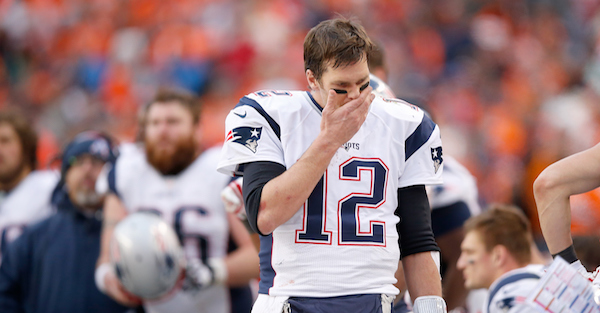 DENVER, CO - JANUARY 24: Tom Brady #12 of the New England Patriots reacts in the second half against the Denver Broncos in the AFC Championship game at Sports Authority Field at Mile High on January 24, 2016 in Denver, Colorado. (Photo by Ezra Shaw/Getty Images)
The New England Patriots have re-signed leading rusher LeGarrette Blount on a one-year deal, per NFL.com.
Blount carried the load for New England in 2015, rushing for 703 yards on 165 carries and six touchdowns. He was part of an injury-ravaged backfield after teammate Dion Lewis tore his ACL, Blount ended up missing the rest of the season with a hip injury following a December 13 contest against the Houston Texans.
Blount spent 2013 with the Patriots before signing a deal with the Pittsburgh Steelers. After Blount was waived from Pittsburgh, he spent the rest of the 2014 season with New England.