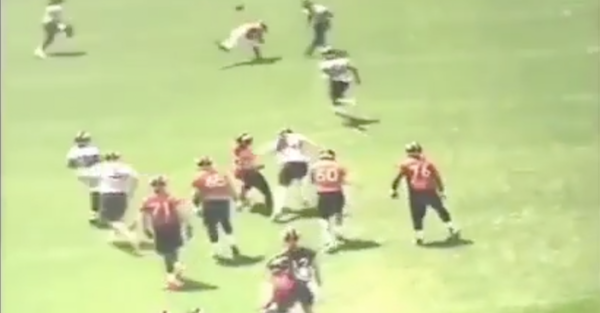 Twitter Screen Shot
After winning the Super Bowl in 2015, the Denver Broncos took a step back in 2016 mostly due to subpar play from the quarterback position.
Trevor Siemian was adequate during his first year as the starting QB, but the Broncos finished 9-7 and missed the playoffs. Rookie QB Paxton Lynch started two games due to injury to Siemian, and he wasn't much better.
Lynch, who the Broncos drafted with the No. 26 overall pick in the first round of the 2016 NFL Draft, is competing for the starting job for the upcoming season, but a recent leaked video revealed Lynch is still struggling with accuracy.
The video, which was supposedly leaked by Will Parks on SnapChat, shows Lynch missing on a couple of easy throws in practice.
Related: Former NFL adviser indicted following multi-million dollar Ponzi scheme
Lynch started two games last year and appeared in three games. He completed 59 percent of his passes and threw for two touchdowns and one interception.
The Broncos' defense should still be one of the best in the league, but if the QB position doesn't improve, they could miss the playoffs again in 2017.
Siemian and Lynch might have some competition with incoming rookie Chad Kelly. Kelly was a seventh round pick, but he has the potential to play?especially if Lynch continues to struggle with basic throws.
(h/t Mile High Report)