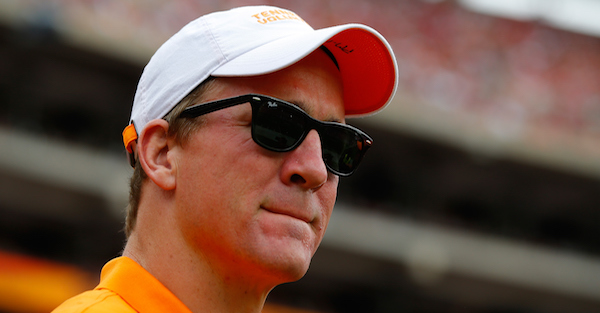 Kevin C. Cox/Getty Images
TUSCALOOSA, AL - OCTOBER 24: Peyton Manning #18 of the Denver Broncos looks on during the game between the Tennessee Volunteers and the Alabama Crimson Tide at Bryant-Denny Stadium on October 24, 2015 in Tuscaloosa, Alabama. (Photo by Kevin C. Cox/Getty Images)
Peyton Manning will be remembered by NFL and college football fans for a multitude of reasons, but, surprisingly enough, one word has stuck with Manning for years now: "Omaha."
It's never been clear as to why Manning said that word so often under center, but Manning finally revealed what the story is behind the classic line.
Via CBS Sports:
"During an appearance at the Adobe Summit in late March, Manning was asked what "Omaha" meant, and surprisingly, he actually answered the question.

"Omaha was just a indicator word," Manning explained from the Las Vegas event. "It was a trigger word that meant we had changed the play, there was low time on the clock and the ball needed to be snapped right now to kind of let my offensive lineman know that 'Hey, we'd gone to Plan B, there's low time on the clock.' It's a rhythmic three-syllable word, 'O-ma-ha, set hut.'"
So, essentially, "Omaha" was just another way to audible at the line of scrimmage, which is what many had expected to be the case.
Still, it's nice to get confirmation from the man himself as to why fans kept hearing Manning shout "Omaha" at the line so often.