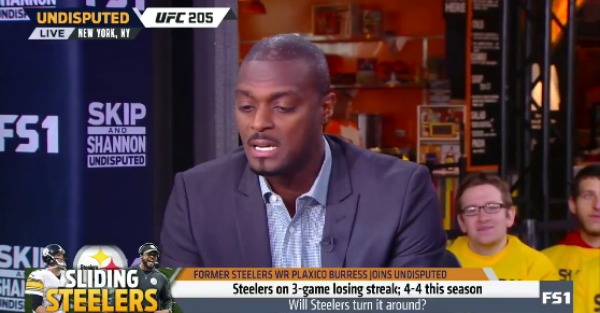 Twitter screen shot
Ezekiel Elliott leads the league in rushing by a significant clip, but former standout wide receiver Plaxico Burress says another running back—one that's not even the radar as far as numbers go—is the best back in football.
During a segment on Fox Sports 1's Undisputed with Skip and Shannon Thursday, Burress questioned why the Pittsburgh Steelers have underutilized running back Le'Veon Bell, who he calls the NFL's most complete running back, despite having the league's 25th-ranked rushing totals.
"One thing that has to change is [Pittsburgh] has a guy in the backfield named Le'Veon Bell," Burress said. "They have to find a way to get him the football and they're not. He has 83 carries, 376 yards and he has no rushing touchdowns. He's supposed to be the best back in football. The most complete back in all of football. The Pittsburgh Steelers traditionally is they're physical, they'll establish the running game, and you ave the best back in football and he has no rushing touchdowns. How can you explain that?"
RELATED: This is undoubtedly the worst onsides kick ever attempted
Burress's view notwithstanding, Bell hasn't struggled all that much. He's averaging 75.2 yards per outing through five games, and last week at Baltimore was the first time this season he failed to rush for at least 53 yards. Bell's lack of success in the red zone does point to something, however.
And with the Cowboys up next on Sunday, it's an issue that'll need to be addressed asap.