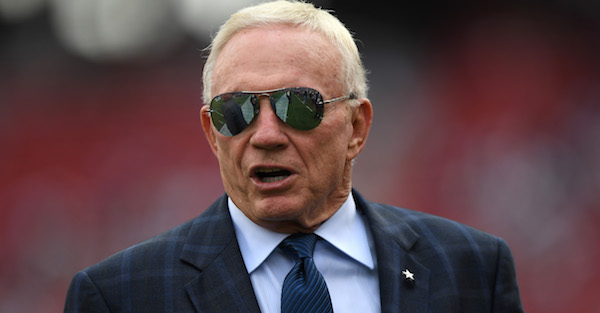 Thearon W. Henderson/Getty Images
SANTA CLARA, CA - OCTOBER 02: Dallas Cowboys owner Jerry Jones is seen on the field prior to the game against the San Francisco 49ers at Levi's Stadium on October 2, 2016 in Santa Clara, California. (Photo by Thearon W. Henderson/Getty Images)
The Dallas Cowboys took a risk on former Notre Dame linebacker Jaylon Smith in the second round of last year's draft. According to NFL Network's Ian Rapoport, that risk could pay off very soon.
Cowboys executive vice president Stephen Jones told 105.3 The Fan that Smith is "making great improvements" and they expect him to participate in minicamp this offseason.
Related: Updates on Jaylon Smith could mean big things for the rising Cowboys
Smith tore his ACL and LCL during his final collegiate game in the Fiesta Bowl against Ohio State. He was expected to be a top pick in the 2016 draft, but he slipped into the second round after he suffered nerve damage from the knee injury.
The nerve might never return to normal, but he can now lift his toes and lift up his foot, which is significant progress. Smith will play with a brace in 2017, but the Cowboys seem optimistic he will be on the field next season.
Jerry Jones told reporters Monday they have "cause for optimism" according to Rapoport.
The Cowboys have lost several defensive contributors this offseason, so they will need all the help they can get on that side of the ball.
(h/t NFL.com)