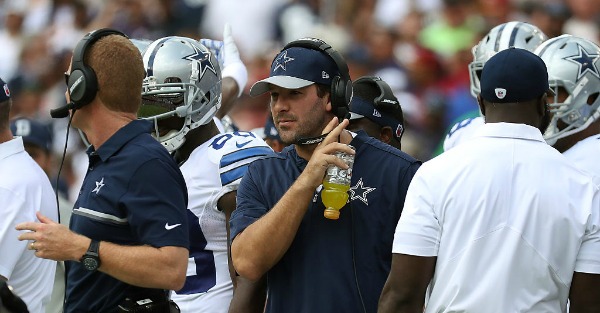 Rob Carr/Getty Images
Considering the emergence of rookie Dak Prescott, getting Tony Romo back in the lineup is hardly a pressing matter for the Cowboys at this point.
There is, however, some encouraging news on the Romo front. He's still nursing a compression fracture in his L1 vertebrae, but, per league sources via Pro Football Talk, he was spotted throwing some 15-20 passes prior to the Washington Redskins game, with the longest pass traveling about 20 yards.
The 6-10 weeks timetable that the team initially laid out for how long Romo would be sidelined means he's expected to return by Week 8. Dallas is set to face the Philadelphia Eagles on Sunday Night Football that game.
RELATED: Colin Cowherd gets called out for flip-flopping on Dak Prescott
Meanwhile, Prescott continued to impress with another solid outing in a 27-23 win over the Washington Redskins. He completed 22-of-30 for 292 yards. In his debut, a narrow 20-19 loss to the New York Giants, Prescott was also mistake-free. He connected on 25-of-45 for 227 yards.