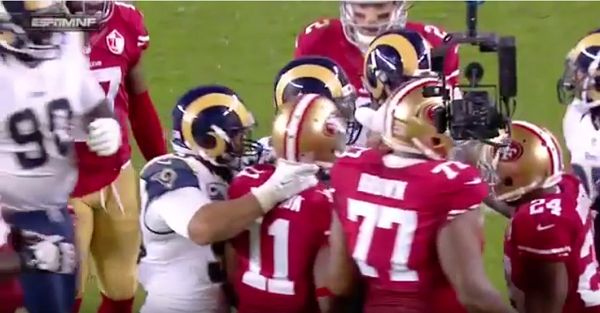 Best of sports/YouTube
The Los Angeles Rams were truly terrible on Monday Night Football against the San Francisco 49ers losing 28-0 and punting on nine of their ten possessions. That naturally made a few players angry and it especially angered defensive tackle Aaron Donald who totally lost his mind late in the fourth quarter.
RELATED: Kevin Harlan gave us the greatest MNF call of all-time
There had already been a streaker on the field and his team was getting its butt kicked in every facet of the game. After a catch and run by Quinten Patton, Donald just decided it was high time to take things into his own hands. He came up from behind Patton and put his hand on the receiver's neck and then proceeded to punch his helmet off in frustration.
That definitely earned him an ejection and he didn't just leave the field like a normal person might. He had to slam his helmet in anger as he stepped off the field. You would consider doing the same if these stats applied to your team:
Ouch.