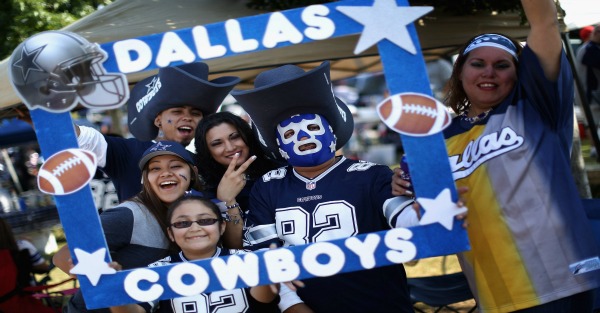 Fans of the National Football League Dallas Cowboys and the New York Giants 'tailgate' before the start of the game outside AT&T Stadium October 19, 2014 in Dallas, Texas. Football fans arrive early to set up tents, televisions and tables so to feast and play before heading into the stadium. Those fans without tickets will remain outside the stadium and watch on large televisions they brought along.
Dallas Cowboys defensive lineman Randy Gregory's birthday is November 23, and KRLD-FM 105.3 asked what he was wishing to receive on his big day.
"Oh man. You know what would be nice … to end this [expletive] losing streak," Gregory said, via The Dallas Morning News. "Get a win on Sunday, have a birthday on Monday and then just glide into the rest of the week. Tony Romo, you better give me my birthday gift. I'm expecting it from you. No pressure."
This is probably what every Cowboys fan wants for their birthday. Maybe with the return of quarterback Tony Romo this weekend, the Cowboys will have a better chance at getting a win.