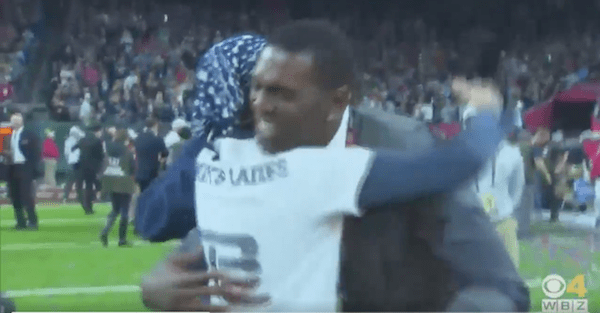 Twitter Screen Shot
Moments after Tom Brady completed the greatest comeback in Super Bowl history, his family and friends came onto the field to celebrate with him.
Related: Our hearts are with Tom Brady, as details emerge about his mother's serious health issue 
Brady's mom, Galynn, attended her first game of the year after battling an illness for the last 18 months, and she was greeted by Brady's former teammate Randy Moss on the field.
Moss gave her a big embrace and shared a few words with her and before she met with Brady.
According to Patriots owner Robert Kraft, Brady's mother has been going through chemotherapy and radiation. It was an emotional game for Brady, and seeing his former teammate greet his mom was a special moment. Brady dedicated the performance to his mom.
Moss and Brady were teammates with the New England Patriots from 2007-2010.
(h/t 247Sports)