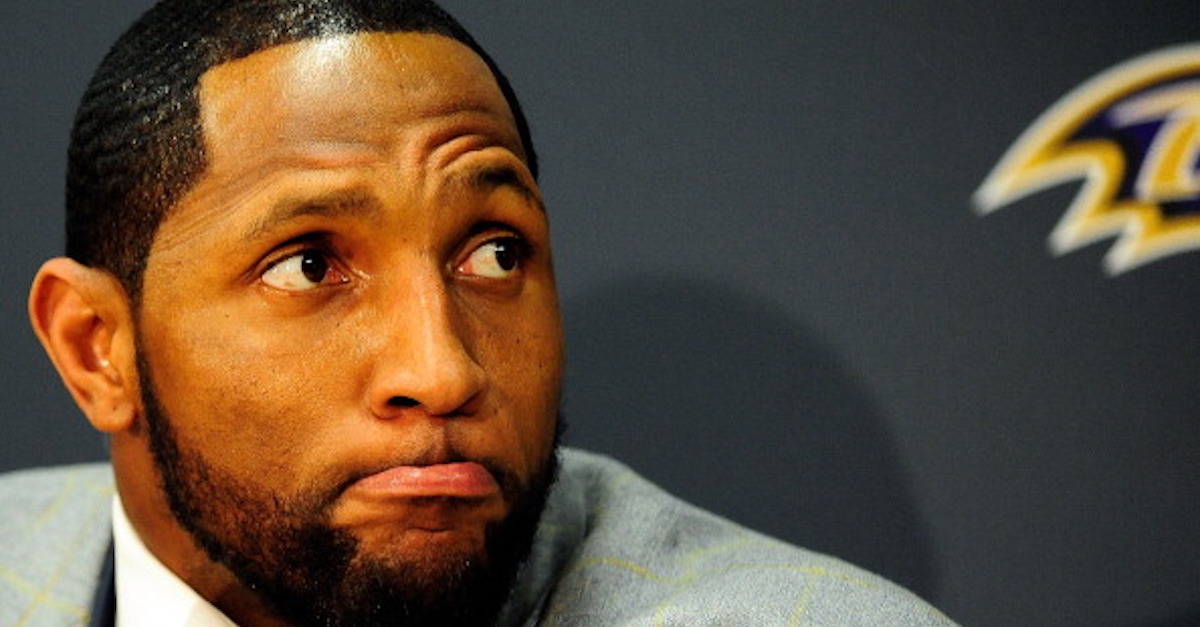 Stacy Revere/Getty Images
NEW ORLEANS, LA - JANUARY 28: Ray Lewis, linebacker for the Baltimore Ravens speaks to the media during a media availability session for Super Bowl XLVII at the Hilton New Orleans Riverside on January 28, 2013 in New Orleans, Louisiana. (Photo by Stacy Revere/Getty Images)
Ray Lewis is one of the greatest NFL linebackers of all-time and he's certainly one of the top players in Baltimore Ravens' history — if not the best — but even he isn't immune to criticism.
Jared Dubin of CBS Sports is passing on a Washington Post report that states the Ravens are needing to increase the security around the Ray Lewis statue outside M&T Bank Stadium.
This is in reaction to a petition circulating on Change.org that is calling for the removal of the Ray Lewis statue. The reason behind the petition, according to the creator, Eric, is Lewis' decision to refuse to stand during the National Anthem before Baltimore's game this past weekend against the Jaguars in London.
Notably, Lewis dropped to two knees for the anthem. Here's what the petition creator wrote:
I want the Ray Lewis statue at Ravens Stadium removed because of his refusal to stand during the National Anthem. That song honors our country and our veterans who fought for it. To kneel during it is disrespectful, regardless of what you are protesting. I will not stand for that kind of disrespect towards our country, especially from a legend such as Ray Lewis. You stand for the National Anthem as a salute to those who can't stand because they fought for this land.
Lewis explained the reasoning behind his protest on Inside The NFL:
"I dropped on two knees — both knees — so I can simply honor God in the midst of chaos," Lewis said on "Inside the NFL," explaining why he kneeled after criticizing former 49ers quarterback Colin Kaepernick for doing so last year.
He's also aware of the petition, but he doesn't appear to regret what he did. According to what he said on 105.7 The Fan, he knows that kneeling during the anthem was within his rights:
"It only bothers me if I blatantly did something to gain awareness for myself," he said. "What I did is for our country. That's why I challenge people."
He expanded on those thoughts by saying, "I took two knees because I have a first amendment right just like everybody else. And when I came out of that locker room, I had a choice to make. And look at my fellow players and I looked at these young guys. I'm not in the protesting business, I'm not into this, whatever Trump wanna say. I'm not into that mess, but if these young boys doing what they doing, then I got to meet them where they are."
At the time of this writing, the petition has been signed over 57,000 times.