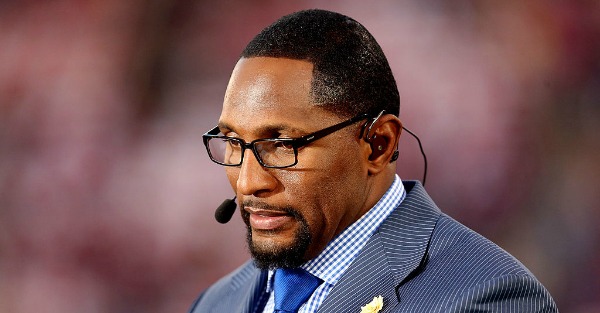 Stephen Dunn/Getty Images
Ray Lewis -- Stephen Dunn/Getty Images
Rob Gronkowski made big news this week for his dirty cheap shot against Tre'Davious White of the Buffalo Bills.
Since that time, the All-Pro tight end has been suspended for one game (pending appeal) but that has not stopped those around the NFL from weighing in on what exactly he did on the field.
To that end, legendary linebacker Ray Lewis was not exactly pleased with Gronkowski's actions and he shared his opinion on Showtime's Inside the NFL this week. (via Ben Volin of the Boston Globe)
"That was probably one of the worst plays I've ever seen in football. That you would attack the guy from the back like that on a regular play? We are talking about just a regular football play. And for Gronk to take it to that level, I don't know. Is one game [suspension] enough? Does one game do enough? I don't know."
It is hard to blame Lewis for this assessment, as Gronkowski's actions were clearly wrong and unnecessary to say the least. Still, there is special credence to the comments given the source and Lewis likely speaks for many players in deriding the cheap shot and, by proxy, the relatively limited punishment handed down by the league in the aftermath.