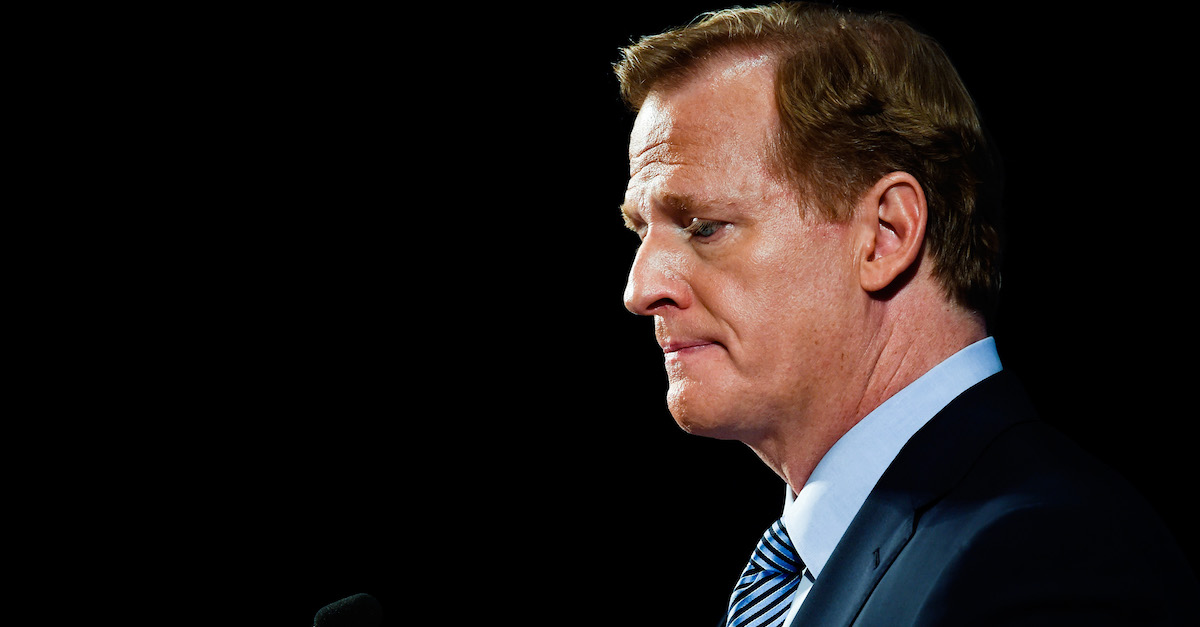 Alex Goodlett/Getty Images
NEW YORK, NY - SEPTEMBER 19: National Football League commissioner Roger Goodell speaks during a press conference on September 19, 2014 inside the New York Hilton Midtown in New York City. Goodell took the time to address personal conduct issues in the NFL. (Photo by Alex Goodlett/Getty Images)
The NFL is backtracking after an unfortunate Super Bowl ad was leaked, featuring Tom Brady and the New England Patriots playing Case Keenum and the Minnesota Vikings in the Super Bowl.
The ad, which appeared on the NFL's official Facebook page, also came with advertising copy that made it clear that it was an ad specific tot eh Vikings and Patriots playing in the Super Bowl. This is according to NJ.com:
Your team is headed to Super Bowl LII…and you could too! When you donate to United Way, you could score 2 club-level seats to watch the PATRIOTS vs. the VIKINGS battle it out for the coveted Super Bowl title! But…that's not all! You could also WIN pre-game sideline access + other cool perks! Don't pass up this touchdown experience – donate TODAY for your chance to WIN big
Here's a screenshot of the ad, also per NJ.com:
It is, of course, worth noting that the NFL likely had a few mock-up ads in preparation for immediate release after the NFC and AFC championships, respectively, and that's exactly what the league said of the matter.
"It was a regrettable mistake," an NFL spokesman told NJ Advance Media via email on Friday afternoon. "The ads were mocked up using all the [possible] combinations, but weren't supposed to go until Monday when the matchup is known. Obviously, someone jumped the gun."
Geoff Mosher of Philadelphia sports radio also passed on that info:
To say that somebody in the NFL's advertisement department jumped the shark would be an understatement, but mistakes do happen — and anybody who's ever emailed the wrong person or emailed something before they actually finished it, would likely understand.
Of course, tell that to Jacksonville and Philadelphia fans if the Jaguars and Eagles lose this weekend because at that point they'll have all the ammo in the world they'll need in order to scream that the fix is in.