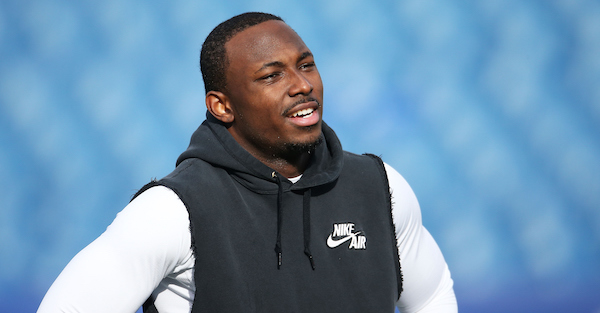 ORCHARD PARK, NY - DECEMBER 06: LeSean McCoy #25 of the Buffalo Bills warms up before the game against the Houston Texans at Ralph Wilson Stadium on December 6, 2015 in Orchard Park, New York. (Photo by Tom Szczerbowski/Getty Images)
Things didn't end well for LeSean McCoy in Philadelphia, and the running back still holds a grudge with how his tenure ended with the Eagles.
As McCoy prepares to return as a member of the Buffalo Bills, the running back has stirred the pot as best he can. So when head coach Chip Kelly reportedly tried to reach out and clear the air, according to Philly.com, here's how the former running back responded:
"He tried again on Tuesday, according to sources with knowledge of the call. McCoy didn't recognize the number and answered. When Kelly identified himself, McCoy hung up. On Wednesday, McCoy said he stood by offseason comments he made about Kelly's not respecting stars and getting rid of all the "good black players."

"I know he was pissed, and he should be pissed, rightly so," Kelly said.
McCoy and the Bills take on the Eagles Sunday at 1 p.m. ET.