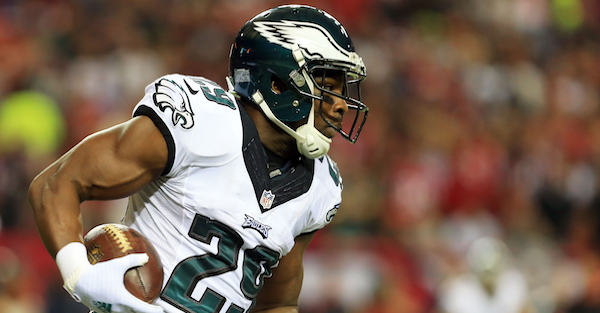 ATLANTA, GA - SEPTEMBER 14: DeMarco Murray #29 of the Philadelphia Eagles runs the ball during the first half against the Atlanta Falcons at the Georgia Dome on September 14, 2015 in Atlanta, Georgia. (Photo by Daniel Shirey/Getty Images)
DeMarco Murray went from league-leading rusher to arguably the worst year of his career out of the backfield, rushing for just 3.6 yards per carry.
Because of that, and a feeling of comfortableness from Murray with the situation, the Eagles and the running back are heading toward a staredown that could bring $13 million in cap relief for Philadelphia if they release him, per NFL.com.
Murray is due $9 million guaranteed and the unrest developed between him and the organization could lead to the running back hitting the free agent market just one year after he inked a five-year, $40 million deal.
If Murray does get released, NFL.com's Ian Rapoport notes that the Seattle Seahawks, Oakland Raiders and — get this — the Dallas Cowboys would be interested. Murray spent the first four years of career with the Cowboys, who didn't want to pay big bucks to keep him.