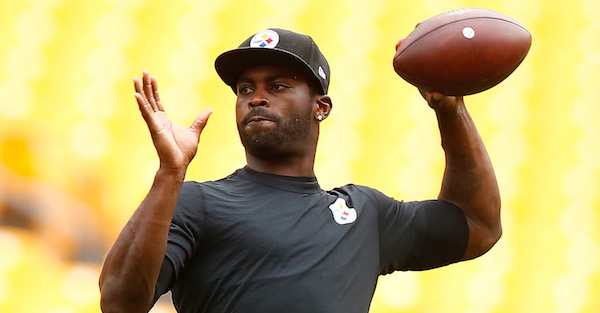 Jared Wickerham/Getty Images
PITTSBURGH, PA - SEPTEMBER 03: Michael Vick #2 of the Pittsburgh Steelers warms up prior to the preseason game against the Carolina Panthers at Heinz Field on September 3, 2015 in Pittsburgh, Pennsylvania. (Photo by Jared Wickerham/Getty Images)
It looks like Michael Vick is heading back to the NFL… at least for one day.
In an interview with CBS Atlanta, Vick revealed that he plans to stay retired, but that he is hoping to sign a one-day contract with the Atlanta Falcons so he can officially retire with the team that drafted him with the No. 1 overall pick back in 2001.
"Hopefully soon," Vick said about the status of such a contract.
Vick was a legitimate superstar when he played in Atlanta, as his lightning speed made him one of the league's premier "most-watch" players. However, Vick's career in Atlanta ended after he was arrested on federal dog-fighting charges in 2007, for which he spent 18 months in prison.
Vick would later return to the NFL, playing for the Eagles, Jets, and most recently, the Steelers. Vick had announced earlier this year that he planned to retire from the sport completely.
In his career Vick made four Pro Bowls, thrice with Atlanta and once with Philadelphia. He remains the only quarterback in league history to rush for 1,000 yards in one season.