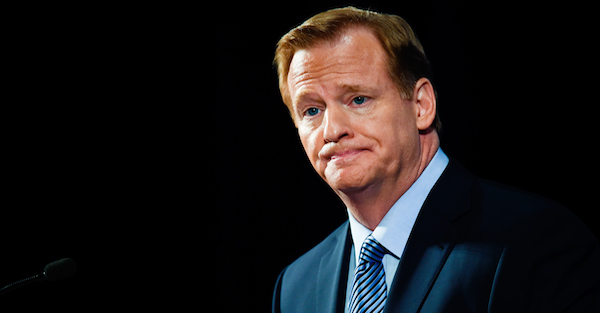 National Football League commissioner Roger Goodell speaks during a press conference on September 19, 2014 inside the New York Hilton Midtown in New York City.
After reporters left Thursday's DeflateGate appeal hearing convinced that New England Patriots quarterback Tom Brady's original four-game suspension would be brought back to life, CBS Boston uncovered some damning evidence against the league.
According to CBS Boston, the NFL's attorney, Paul Clement, told a lie penned by NFL commissioner Roger Goodell last July.
When he handed down the four-game suspension, Goodell wrote that Brady was unable to recall discussions with John Jastremski and suggested the preparation of game balls for the Super Bowl was the subject of conversation, per CBS. Goodell continued that the lack of communication prior to the AFC Championship game and the "extraordinary volume" afterward suggested tampering.
During the appeal process, Judge Richard Berman released a transcript from the hearing where Brady explained a much different reasoning for his discussions with Jastremski, per CBS:
"I don?t remember exactly what we discussed. But like I said, there was two things that were happening. One was the allegations which we were facing and the second was getting ready for the Super Bowl, which both of those have never happened before. So me talking to him about those things that were unprecedented, you know, he was the person that I would be communicating with."

"…So I think trying to figure out what happened was certainly my concern and trying to figure out, you know, what could be ? possibly could have happened to those balls."
Here is what Clement rattled off in court Thursday, per CBS:
?[Brady] knew he was there to testify about that. He offered his version of events. It emphasized things like, ?I talked to these individuals who I never talk to the day after the story broke, not because I want to talk about these events and what the story was, but rather to talk about Super Bowl ball preparation,? Clement told the judges. ?To say all of that was being done to prepare the Super Bowl balls, I think the commissioner found that to simply not be a credible explanation to the conduct.

"If he had been a more credible witness in the commissioner?s eyes, that might also have reduced punishment.?
As Brady's camp prepares to push forward with the appeal process, the future looks much more bleak this time around judging from the first appearance.