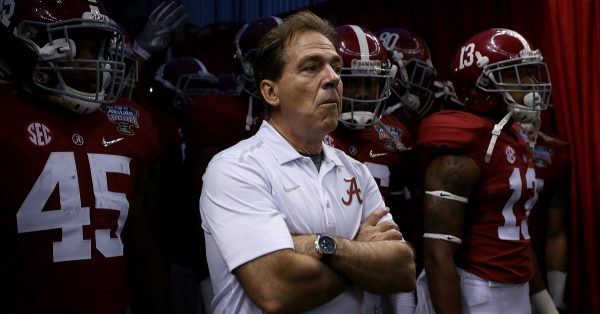 Chris Graythen/Getty Images
NEW ORLEANS, LA - JANUARY 01: Head coach Nick Saban of the Alabama Crimson Tide looks on prior to the All State Sugar Bowl against the Ohio State Buckeyes at the Mercedes-Benz Superdome on January 1, 2015 in New Orleans, Louisiana. (Photo by Chris Graythen/Getty Images)
Actor Tom Arnold unveiled a bizarre story about Nick Saban being interested in leaving Alabama for the New York Giants after Tom Coughlin stepped down from the head coach position and before Ben McAdoo snagged the job.
According to boxing promoter Bob Arum, it was Nick Saban's wife who nixed the plan, not Saban himself, per USA Today.
Arum noted he got a call from Nick Khan, an agent at CAA, asking him to put a separate agent (Saban's) in touch with his friend and Giants co-owner Steve Tisch. The move needed to happen quickly since the Giants were reportedly negotiating with McAdoo, and here's what happened next, in Arum's words:
?So I called Nick (Khan), who relayed it to his colleague at CAA. They came back and said, ?Nick is delighted. Now he?s talking to his wife.? They went so far as to contact real estate agents in New Jersey, for homes in New Jersey. Then Nick [Khan] called back the next day and said, ?Call Steve. Tell him Nick can?t do it. His wife loves Tuscaloosa, Alabama. She doesn?t want to move, so Nick can?t take the job.??
Saban stuck around at Alabama and has rattled off yet another dominant undefeated season, while the Giants have rolled out to a 4-3 record, good for second in the NFC East.
How much longer Saban has as a head coach is unknown. If he plans to head back to the NFL, it would likely need to be sooner rather than later.