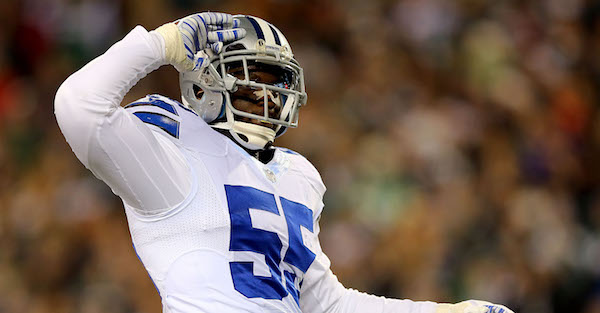 PHILADELPHIA, PA - DECEMBER 14: Rolando McClain #55 of the Dallas Cowboys reacts during the game against the Philadelphia Eagles at Lincoln Financial Field on December 14, 2014 in Philadelphia, Pennsylvania. (Photo by Elsa/Getty Images)
RELATED: Cowboys? depth receives another huge hit with this terrible news
The train wreck that is the Dallas Cowboys front office continues it's course as there's some disagreement in the absence of recently suspended linebacker Rolando McClain.
A Dallas Morning News column describes coaches as being "infuriated" by McClain's absence from Organized Team Activities–a voluntary commitment–last month.
While the coaches seem to be frustrated by McClain's absence, Jerry Jones doesn't appeared bothered by it.
He admitted to as much when he said the Cowboys were willing to cut McClain some slack when it came to missing OTA's.
Of course, McClain is scheduled to miss the first 10 games this season due to suspension for violating the NFL's substance abuse policy so why he's not being kept on a tighter leash is beyond us, and the Dallas coaching staff.
But this points to a larger problem in Dallas. The team has lost important players via suspension, it has players trying to come back from injury (including Tony Romo and Dez Bryant) and the pressure from the expectations of a strong rebound from a miserable 4-12 season. With all of that, the team doesn't need conflict between coach, the front office, and the owner.