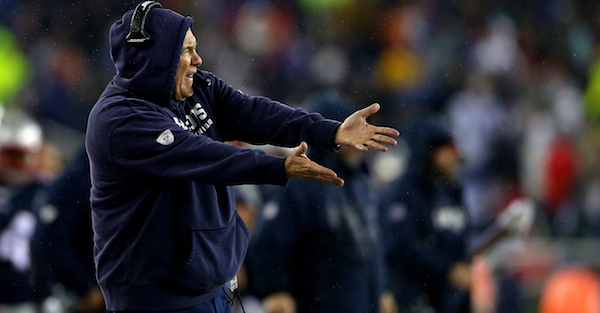 Elsa/Getty Images
FOXBORO, MA - JANUARY 18: Head coach Bill Belichick of the New England Patriots reacts to a play in the third quarter against the Indianapolis Colts of the 2015 AFC Championship Game at Gillette Stadium on January 18, 2015 in Foxboro, Massachusetts. (Photo by Elsa/Getty Images)
The New England Patriots reportedly made a big-time addition on Thursday morning, securing former Buffalo Bills cornerback Stephon Gilmore with a highly lucrative contract. While the immediate reaction to that move revolved around Gilmore seemingly taking over for Logan Ryan as the team's No. 2 cornerback, it might reportedly be a precursor to a much larger move.
The reigning champs moving on from Super Bowl hero Malcolm Butler would be big news, though not totally out of the left field. Bill Belichick is notorious for being stingy with contracts and Butler is facing restricted free agency and a potentially hefty price tag.
As for the notion that New England would add a big-time wide receiver in Brandin Cooks, that is terrifying for the rest of the NFL. Tom Brady navigated the Patriots to a Super Bowl win without his top target in Rob Gronkowski and Cooks would arguably be New England's best option on the outside immediately (in a battle with Julian Edelman) given his 1,173-yard performance in 2016.
It will be very interesting to see if this trade comes together, as it would address needs for both teams and act as one of the more high-profile player-for-player trades in recent NFL memory.