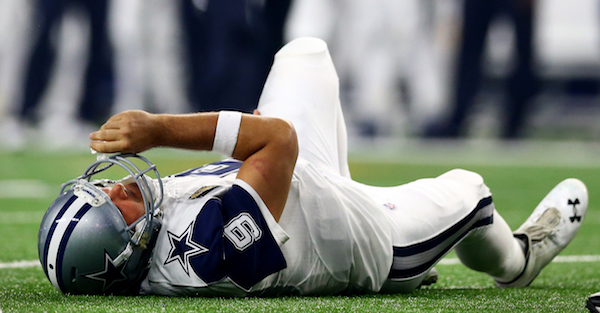 Ronald Martinez/Getty Images
ARLINGTON, TX - NOVEMBER 26: Tony Romo #9 of the Dallas Cowboys stays on the ground after being sacked by the Carolina Panthers in the third quarter at AT&T Stadium on November 26, 2015 in Arlington, Texas. Romo left the field following the play. (Photo by Ronald Martinez/Getty Images)
Despite reports of a potential blockbuster trade, Tony Romo is still expected to be released by the Cowboys, and it looks like he has one destination in mind that he would even take a pay cut for.
According to Denver reporter Benjamin Allbright, the Broncos would be looking to acquire Romo through free agency at about $10-12 million per year. Clarence Hill Jr., a reporter for the Dallas Star-Telegram, indicates that is a deal that Romo would gladly take.
Related: Blockbuster trade involving Tony Romo reportedly being discussed at the NFL Combine
Romo is set to make $14 million in salary for the 2017 season under his current contract, but he has a cap hold of $24 million. Romo's contract also includes salaries of $19.5 million and $20.5 million for the 2018 and 2019 seasons, per Spotrac.
Those salary numbers are a big reason why Romo will likely be cut over traded. It is difficult to move him at that cap hit number, and the Cowboys would likely prefer to clear his contract off the books altogether.
Romo, 37, is still seen as a top quarterback when uninjured. Of course, injuries have derailed Romo's past two seasons, and rookie Dak Prescott was able to usurp the starting quarterback position in 2016.