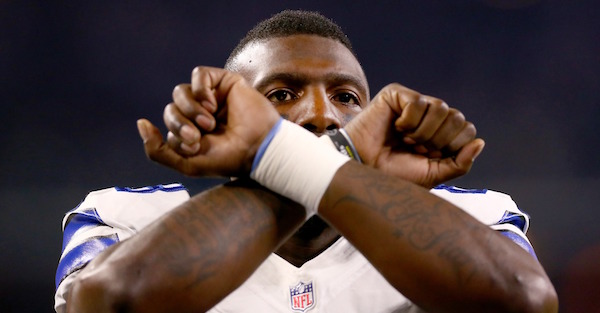 Tom Pennington/Getty Images
ARLINGTON, TX - DECEMBER 19: Dez Bryant #88 of the Dallas Cowboys takes the field before the Cowboys take on the New York Jets at AT&T Stadium on December 19, 2015 in Arlington, Texas. (Photo by Tom Pennington/Getty Images)
Des Bryant remains one of the top wide receivers in the NFL, but his reported irresponsibility has become a serious issue in Dallas.
Related: Skip Bayless calls out "immature" Dez Bryant for missing team meetings
Reports have emerged, according to ESPN's Adam Schefter, that Bryant hasn't exactly been the most reliable player since entering the league in 2010:
"…Bryant has demonstrated a pattern of irresponsible behavior throughout his time in Dallas, being late to or flat out missing medical treatment or team meetings at least 20 and possibly as many as 40 times during his Cowboys career, according to sources familiar with the situation. As one Cowboys player remarked, "If you were hoping for him to come to a scheduled meeting, he may or may not be there; but if you need a first down on third and 14, throw it to Dez." One source said Bryant has been late or missed treatment on his foot injury that dates back to last season "at least 7 or 8 times this year alone" – and he has made strides over time."
Bryant has been plagued by a variety of injuries during his tenure with the Cowboys, and while it's not spelled out for us, the sensible connection to him missing treatments could be made to his delayed return. These reports emerged after Bryant missed meetings and an MRI earlier in the week over a knee injury.
It also shows why the Cowboys may have been reluctant to hand over the five-year, $70 million deal they gave to Bryant last summer following a lengthy back-and-forth.
Bryant's play is nearly unmatched across the NFL at the receiver position, but missing so many meetings and treatments over that span of time seems  like it could develop into a serious problem.