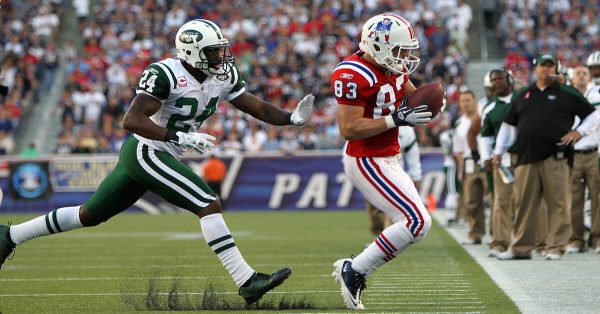 Jim Rogash/Getty Images
FOXBORO, MA - OCTOBER 9: Wes Welker #83 of the New England Patriots catches a pass against the defense of Darrelle Revis #24 of the New York Jets in the first half at Gillette Stadium on October 9, 2011 in Foxboro, Massachusetts. (Photo by Jim Rogash/Getty Images)
Could we see Darrelle Revis and his famed Revis Island change it's location in the near future?
RELATED: Apparently Jets fans were telling Ryan Fitzpatrick to stop being ?so greedy?
If you ask Revis, it's certainly possible, just don't count on it being the obvious change.
Though he still says he can play at a "high level," changing positions from corner to safety could allow Revis to remain impactful far down the line of his career.
Revis wouldn't be the first corner to make the change. Future Hall of Famer Charles Woodson was switched from corner to safety in the latter stages of his career.
Revis did mention possibly doing "some other things," which begs the question: could we see him on the offensive side of the ball as well?