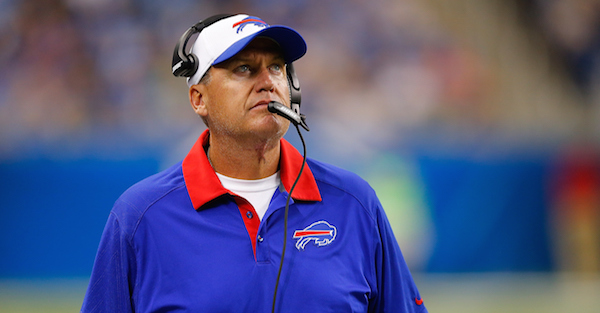 Leon Halip/Getty Images
DETROIT, MI - SEPTEMBER 3: Head football coach Rex Ryan watches the action during the second quarter of the preseason game against the Detroit Lions on September 3, 2015 at Ford Field Detroit, Michigan. (Photo by Leon Halip/Getty Images)
Rex Ryan hasn't exactly been successful against the New England Patriots in his coaching career (but then again, who has?) and with their newest addition in tight end Martellus Bennett, it's not likely his fortunes will change any time soon.
RELATED: Here's another reason to dislike the Patriots. Another player is dating a supermodel
While speaking to reporters about the top-tight end duo in the league, Ryan said he was "encouraged" by the prospect of facing Bennett and All-Pro Rob Gronkowski but also noted the obvious conclusion of just how tough a matchup they'll be.
"… I think we'll see how tough it is to cover those dudes when we get that chance. But they're all — the thing that gets you is they're two giant red zone threats, like, that's probably the biggest thing. You know, Gronk being the No. 1 red zone threat in the league and Bennett is probably just below him. So, it's like that's going to be a nightmare for any team, not just us."
Ryan is always one of the best, if not the best, coaches at providing great quotes, but this may be as straightforward as he's ever been.
Which is smart, because it's best not to tug on Superman's cape.
Bennett has over 3,500 yards and 23 touchdowns over eight seasons in the NFL. Gronkowski's dominance has laid a path of destruction over six seasons, notching 5,500 years and a whopping 65 touchdowns.
Yeah, good luck covering that.