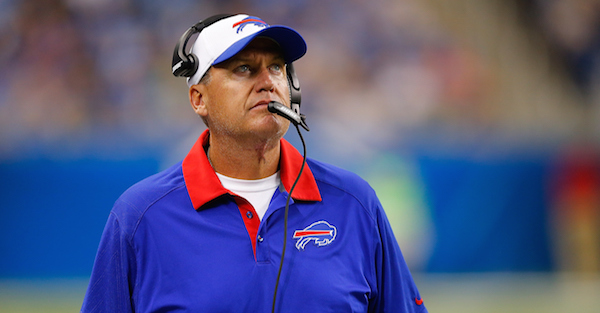 Leon Halip/Getty Images
DETROIT, MI - SEPTEMBER 3: Head football coach Rex Ryan watches the action during the second quarter of the preseason game against the Detroit Lions on September 3, 2015 at Ford Field Detroit, Michigan. (Photo by Leon Halip/Getty Images)
Rex Ryan was understandably fired after another subpar season with the Buffalo Bills, but the way it went down was intriguing to say the least.
Related: The Bills general manager gives the most wimpy answer you can imagine when asked about Rex Ryan's future
According to a recent article from the Monday Morning Quarterback, Bills owner Terry Pegula and general manager Doug Whaley decided to bench quarterback Tyrod Taylor. There was financial risk to playing Taylor in the Week 17 game against the New York Jets because Taylor is guaranteed his $27.5 million salary for injury only. So, if Taylor was hurt against the Jets, the Bills would owe him his entire salary for 2017.
Well, Ryan promised Taylor he'd be the starting quarterback as long as Ryan was the coach, and he didn't want to break his promise to his quarterback. Ryan asked for a one-on-one meeting with Pegula, and he said if you're going to fire me next Monday, just go ahead and do it now. Pegula let Ryan go before Week 17.
The dysfunction with the Bills organization is alarming. Though Ryan isn't a great coach, it's still not a good sign when ownership and management aren't on the same page with the coaching staff. The Bills have the longest playoff drought in the NFL, and they haven't made the playoffs since 1999.
(h/t The Big Lead)