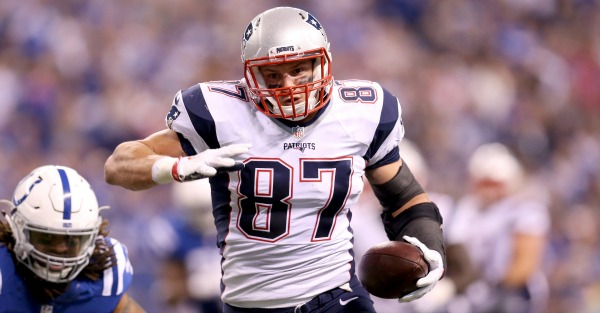 of the New England Patriots against the Indianapolis Colts at Lucas Oil Stadium on October 18, 2015 in Indianapolis, Indiana.
In the third quarter of Sunday night's Patriots-Colts game, Rob Gronkowski scored a touchdown to give the Patriots a 26-21 lead.
The TD was Gronkowski's 60th of his six-year career in his 70th regular-season game, making him the fastest tight end to reach 60 touchdowns in league history.
"It just is what it is," Gronkowski said, via Comcast SportsNet. "When my number's called, I just gotta make a play. If it's not, I just gotta run a good route. That's why it's such a great game. It's just a team game. Just gotta go out there and do my job, blocking, receiving, whatever it is."
Gronkowski is now the fifth tight end in NFL history with 60 touchdowns, breaking the record of Antonio Gates, who previously held the record as the quickest to 60 scores in 110 games.