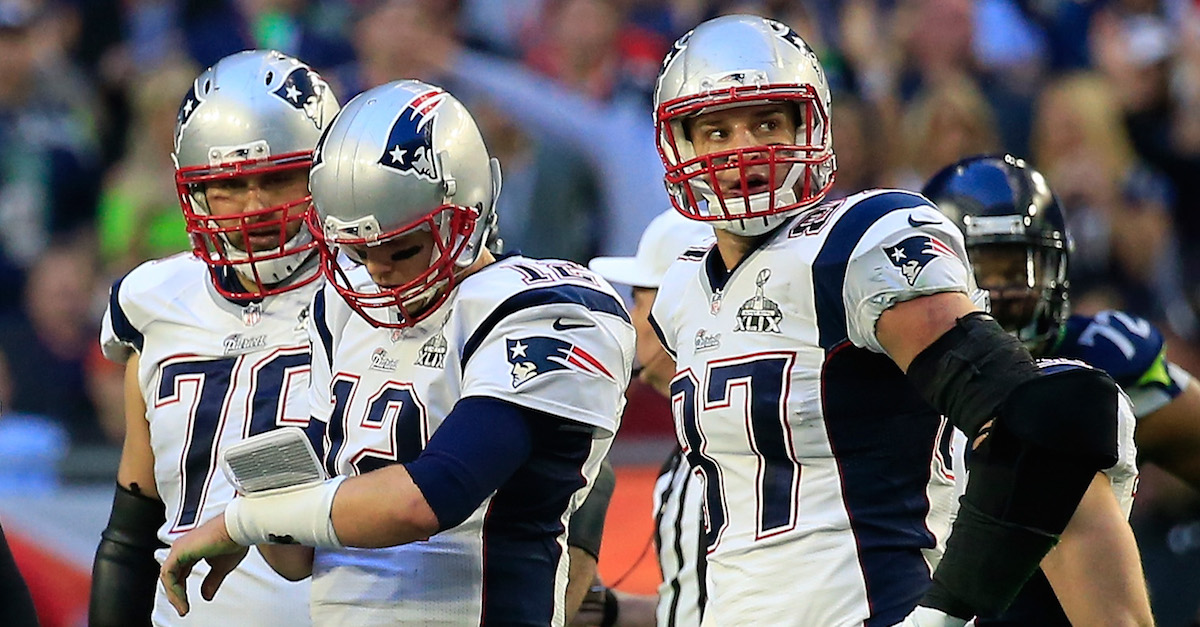 Rob Carr/Getty Images
GLENDALE, AZ - FEBRUARY 01: Tom Brady #12 of the New England Patriots checks his play card as Sebastian Vollmer #76 and Rob Gronkowski #87 look on in the first quarter against the New England Patriots during Super Bowl XLIX at University of Phoenix Stadium on February 1, 2015 in Glendale, Arizona. (Photo by Rob Carr/Getty Images)
While New England Patriots tight end Rob Gronkowski continues to mull his NFL future, his next career path may have already been decided.
According to Wrestling Observer Newsletter's Dave Meltzer (subscription needed), WWE is willing to offer Gronkowski a similar deal to former UFC Champion Ronda Rousey which, although it would be significantly less than his contract with New England, would perhaps be less stressful than another full NFL season.
"This comes at the same time that reports from wrestling indicate WWE is willing to offer a similar style deal to Gronkowski that they offered to Ronda Rousey. Given that would be far less than he would make in football, it?s hard to say, but he?s been hurt a lot in football and while wrestling full-time is very hard on the body as well, a part-time deal isn?t so bad."
Meltzer's report comes days after close friend and current WWE superstar Mojo Rawley told TMZ that Gronkowski is reportedly interested in making a transition to professional wrestling after his retirement from football.
?It?s not a matter of if, it?s a matter of WHEN," said Rawley, who also played professional football prior to pursuing a career with WWE. "…I can?t speak for him.?
Gronkowski has made multiple appearances alongside Rawley on WWE television, which included helping the former defensive lineman win the Andre the Giant Memorial Battle Royal after an altercation with Jinder Mahal.
Several days later, the Pro Bowl tight end was shown in the crowd at SmackDown Live during Rawley's match against Mahal, which escalated to him throwing a beer on the eventual WWE Champion during the live broadcast.
It's also worth noting that Mahal — who would be Gronkowski's obvious first rival — also trolled the Patriots star after his team's Super Bowl loss earlier this month.
Will we see Gronk in the squared circle sooner rather than later?