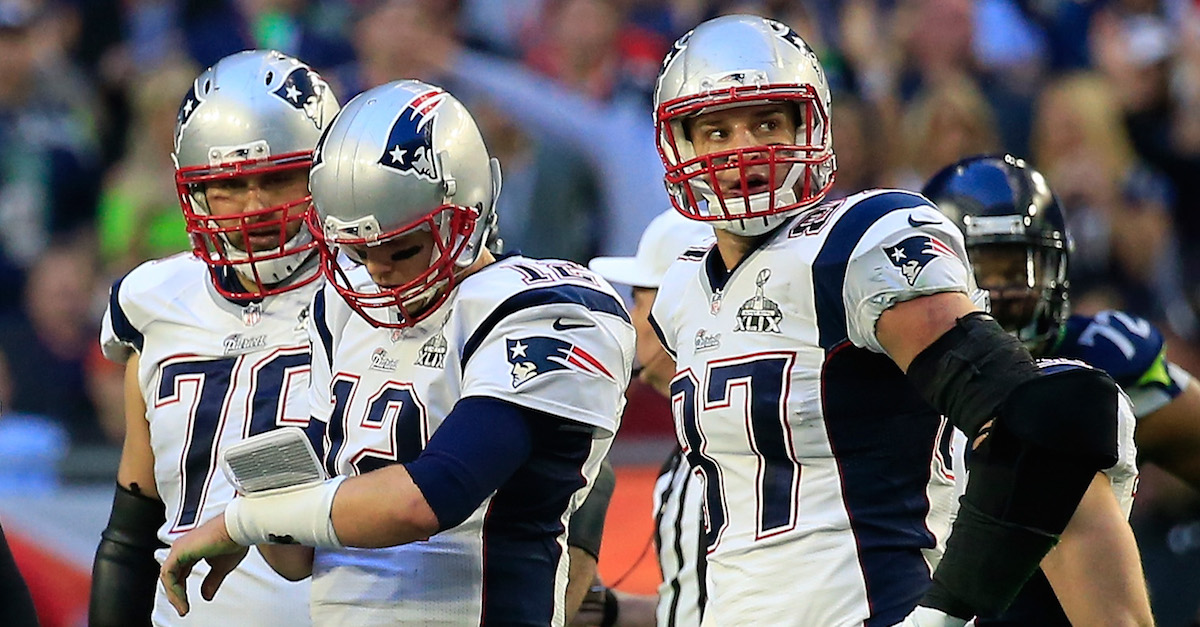 Rob Carr/Getty Images
GLENDALE, AZ - FEBRUARY 01: Tom Brady #12 of the New England Patriots checks his play card as Sebastian Vollmer #76 and Rob Gronkowski #87 look on in the first quarter against the New England Patriots during Super Bowl XLIX at University of Phoenix Stadium on February 1, 2015 in Glendale, Arizona. (Photo by Rob Carr/Getty Images)
After the New England Patriots lost in the Super Bowl to the Philadelphia Eagles, tight end Rob Gronkowski was asked about his future in football.
While Gronk didn't exactly answer whether or not he would retire this offseason, it certainly seemed as if the 28-year-old had put some thought into retirement.
Related: Rumor: Rob Gronkowski has discussed other career options as retirement considerations may be realistic
Sports Illustrated's Albert Breer reported that the rumblings about Gronk retiring are very real, and he said the list of injuries would certainly be the reason why he would walk away from the game early.
"I believe Rob Gronkowski's rumblings about retirement are real," Breer wrote. "He's been responsible with his finances (putting away most of his football money and living largely off his endorsement cash), and he's taken an absolute beating. That this is a real choice for high-profile players now is great progress, too. Give credit to ex-Niner LB Patrick Willis and ex-Lions WR Calvin Johnson credit for blazing that trail."
During Gronk's eight years in the league, he's only played one full season. He only missed two games in 2017 — and one of those was due to suspension — but he suffered a brutal concussion in the AFC Championship Game against the Jacksonville Jaguars.
Gronkowski has suffered injuries to his knees, back, forearm, head and who knows what else during his football career. It wouldn't be surprising to see him hang it up, though it's probably likely at this point that he returns for at least one more season.
Gronk is still the best tight end in the league, and he's Tom Brady's favorite weapon in crunch time. If he retires, it would leave a major void in New England's offseason.