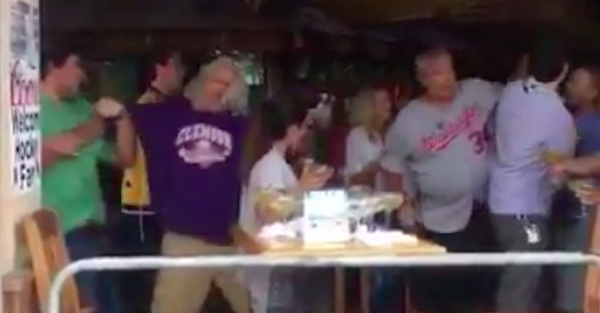 247Sports via Twitter
A report surfaced late Sunday that Rob and Rex Ryan were involved in an altercation in a bar in Nashville, Tn.
Tom Martin, a reporter for WIVB-TV in Buffalo shot the video and placed it on Twitter. Martin, on the video, says, "Rob n Rex Ryan fighting dudes." Fansided reported the video shows Rex Ryan, wearing a Bryce Harper jersey, in the middle of a scrum while his twin brother, Rob, holds out his hand and, briefly, grabs someone by the throat.
Rex Ryan, the former coach of the New York Jets, was fired after two years at the helm of the Buffalo Bills. He's now an ESPN analysis. Rob Ryan has been a longtime defensive assistant, and worked with his brother in Buffalo, He was also  who was fired with one game remaining in the 2016 season and is still unemployed.
The Nashville Predators are facing the Pittsburgh Penguins in the Stanley Cup finals. Rex Ryan has been a long-time Predators season ticket holder.