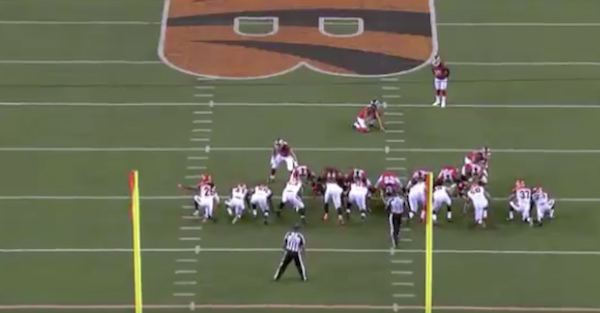 @gifdsports/Twitter
The Tampa Bay Buccaneers spent a second round pick on kicker Roberto Aguayo in 2016, and he missed nine field goals and two extra points as a rookie.
The team brought in Nick Folk as competition to the second-year player and things weren't exactly going well Friday night after he missed an extra point.
Aguayo only connected on 71 percent of his kicks in 2016 for the Bucs.
When prompted about Aguayo earlier this summer, Bucs GM Jason Licht did not exactly shine a glowing light on Aguayo in speaking to the Tampa Bay Times:
"Read the stats, he wasn't very good last year. He wants to improve and he's going to work at it. And we still have confidence in him but you're always trying to get better.''
It isn't exactly breaking that news that Aguayo "wasn't very good last year" but the frank nature of this statement isn't super encouraging for the young kicker. Licht went on to say that Aguayo "had to learn that he's not doing this for fun anymore" in addition to indicating that Aguayo has "a lot of people depending on him" in the future.
Tampa Bay is already catching plenty of heat for the pick but, if Folk wins the job, the choice of Aguayo with a second-round pick will quickly be added to the list of all-time NFL Draft blunders.