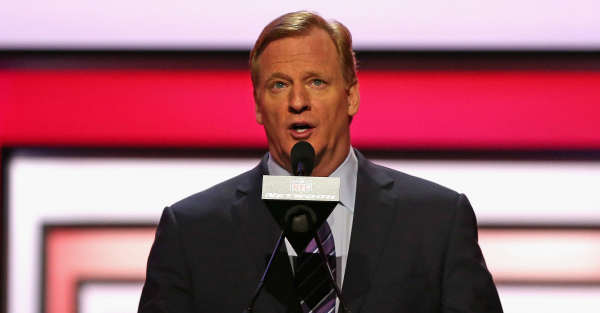 Jonathan Daniel/Getty Images
CHICAGO, IL - APRIL 28: during the 2016 NFL Draft at the Auditorium Theater on April 28, 2016 in Chicago, Illinois. (Photo by Jonathan Daniel/Getty Images)
While the NFL has produced some very interesting on-field story lines this season, much of the attention paid to the sport still revolves around national anthem protests and various responses to that choice from players, owners and the commissioner of the league, Roger Goodell. On Wednesday, Goodell was interviewed as part of Bloomberg?s The Year Ahead Summit in New York and, predictably, the topic came up through the course of the discussion.
The full video is here:
Goodell's headline quote was that "people come to our stadiums to be entertained and have fun, not to be protested to" and the statement creates quite a stir on both sides. Beyond that, Goodell doubled down on the notion that "respect for our flag is very important" and he made it clear that he wants "to see our players stand" for the anthem.
In addition, the commissioner made it clear that "getting into politics is not something (the NFL does)" and that "values aren't necessarily about politics." Much of the discussion arrives in platitudes but, in the same breath, this is arguably the most forceful and direct that Goodell has publicly been on the issue.
It is important to note that nothing Goodell says is likely to change anyone's mind but his comments are both noteworthy and interesting.