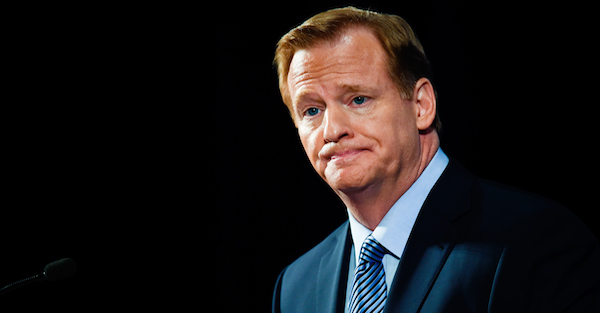 National Football League commissioner Roger Goodell speaks during a press conference on September 19, 2014 inside the New York Hilton Midtown in New York City.
The NFL is struggling with a plethora of issues, but perhaps none have been more prevalent in recent years than domestic violence.
Related: Lawyer: NFL needs to close domestic violence investigation against Ezekiel Elliott
Several players ? including Ray Rice, Greg Hardy and mostly recently Josh Brown ? have been suspended for domestic violence, and Commissioner Roger Goodell has exercised poor judgment and leadership in grappling with the issue.
After Donald Trump was elected president, Goodell spoke at The New York Times' DealBook conference and said Trump's comments regarding women will make it more difficult for him and the NFL to reduce domestic violence incidents throughout the league. Goodell also said Trump being president makes his job more difficult at home.
?It makes my job harder at home too,? Goodell said. ?I have twin daughters and a wife so I have to explain that to them. So yes, on that front. Does it make it harder publicly? Listen, I think our country has to have more respect for one another, and we have to unite.?
Goodell's comments are hypocritical given how he has handled domestic violence over the last few years. If he is serious about his comments on Trump and his own family, perhaps he should treat domestic violence issues in his league more strictly.
Goodell has to be at least a little nervous after hearing Trump say he'd fire him, right?
(h/t USA Today)