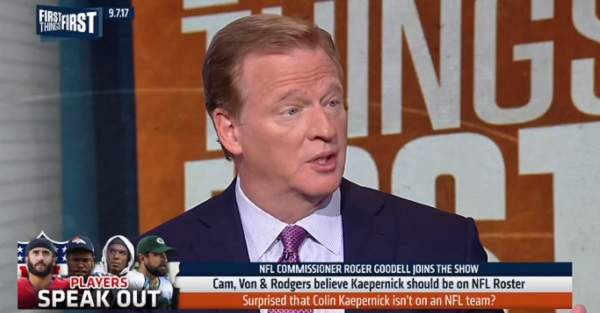 YouTube/First Take
NFL commissioner Roger Goodell hasn't given much in the way of public comments about Colin Kaepernick's continued unemployment in the NFL. However, that changed on Thursday, as Goodell visited with FS1's First Things First show and he was asked about the quarterback's status and his thoughts.
Here is what Goodell had to say, via ProFootballTalk:
"I want to see everyone get an opportunity, including Colin, but those decisions are made by football people. When teams have a need and teams feel like they can get better by a particular individual, whether they know the system, or whether they have more talent, or whatever it may be, that's what they do. And I'm still convinced that he'll get that opportunity when the right opportunity comes along. That's what our league's all about."

"I'm not a football expert. I'm a huge fan. I have a role as commissioner also, but for me I watch the games and enjoy and I let the football people make those decisions. And the reality is there's 32 different decisions, and multiple decisions within an organization, so there's always a dispute. The idea of who can play, who can't play, who's best for our system and not best for our system, are decisions that should be made by those 32 teams."
Naturally, Goodell was not going to reveal any sort of massive conspiracy to keep Kaepernick out of the league but, in the end, he said very little that will move the needle. In some ways, Goodell is correct in that he has no football authority that would speak to Kaepernick being without a team. On the other hand, a lot of people would likely prefer Goodell to acknowledge the troubling trend and he didn't really do that in this instance.