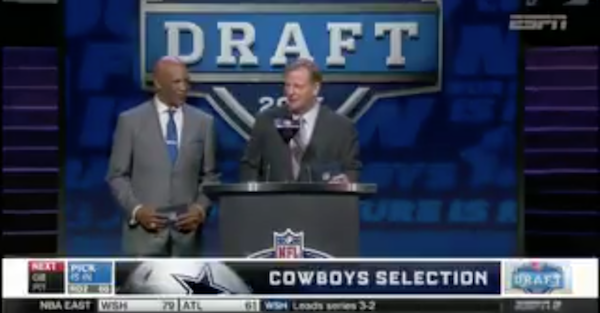 Twitter Screen Shot
The most memorable moment of the second round of the NFL Draft was former Dallas Cowboys receiver Drew Pearson trolling Philadelphia Eagles fans on Friday night.
Related: Did Roger Goodell get caught doing the most disgusting thing live during the NFL Draft?
According to Pearson, he asked Roger Goodell if it was OK for him to troll the massive crowd of Eagles fans in Philadelphia, and Goodell actually encouraged it.
?I?m thinking he might say, ?Oh, no, don?t say anything like that, that might get them too fired up, might cause a riot out there in that crowd,? Pearson said on PFT Live. "But to my surprise, he encouraged me to say that and to get the crowd even more riled up.?
Pearson was provided with extra security from the NFL, but nothing happened after he talked some trash on stage.
The reaction on social media was almost as great as Pearson's announcement.
Goodell is booed constantly by NFL fans during the draft, so he probably wanted some company.
(h/t Pro Football Talk)