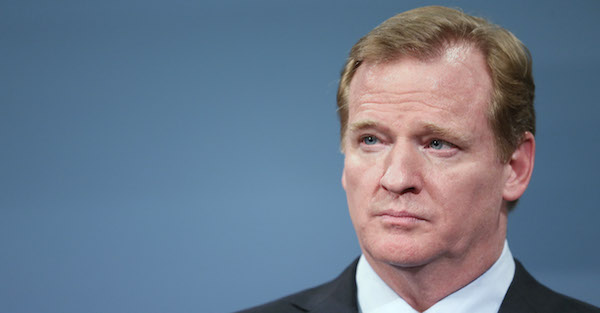 Mario Tama/Getty Images
NEW YORK, NY - JANUARY 24: National Football League (NFL) Commissioner Roger Goodell looks on at a City Hall press conference announcing plans for Super Bowl XLVIII in the region on January 24, 2012 in New York City. The New York/New Jersey region's first Super Bowl will see the creation of a "Super Bowl Boulevard" fan attraction along Broadway in midtown Manhattan. (Photo by Mario Tama/Getty Images)
The NFL's investigation into DeflateGate 2.0 didn't quite lead to the witch hunt that followed when it was alleged Tom Brady and the New England Patriots underinflated footballs during the 2015 AFC Championship game.
Instead, it took less than two weeks for the investigation into reported deflated footballs by the Pittsburgh Steelers against the New York Giants to come to a dead end.
The first report noted that the Giants asked the league to look into the inflation levels of the footballs during their December 4 contest.
?The Giants had asked us about it during the game,? Goodell told reporters on Wednesday regarding the concerns raised about the inflation level in footballs used by the Steelers on December 4 in Pittsburgh.
Now, the story is the Giants asked the league to take a look after the game. That's at least the story, per Pro Football Talk:
?The Commissioner misspoke regarding the time the club notified the league,? NFL spokesman Brian McCarthy told PFT via email. ?He meant to say after the game.?
If the Giants brought it up to the league after the game, they couldn't have tested the air pressure of the footballs to get an accurate in-game reading, as PFT discusses. If they had brought it up during the game, PFT points out they should have tested the footballs like they did during the Patriots contest.
Yet there's more, as PFT details:
Then again, if the complaint was indeed made after the game, there would have been no reason to ensure that ?[a]ll of the league protocols were being properly followed? because there would have been no way to prove that anyone had tampered with the footballs if the protocols weren?t being followed. The league, unwilling to accept the PSI levels measured by the Giants due to the fact that it was a different device, would have been unable to proceed in any way without determining the air pressure in all of the footballs during the game."
The Steelers beat the Giants, 24-14.
This is the second time this season a team has been accused of under inflating footballs.
It also follows the drawn out nightmare that was the New England Patriots and Tom Brady versus the NFL, where two assistants allegedly deflated footballs ahead of the team?s 2015 AFC title tilt against the Indianapolis Colts.