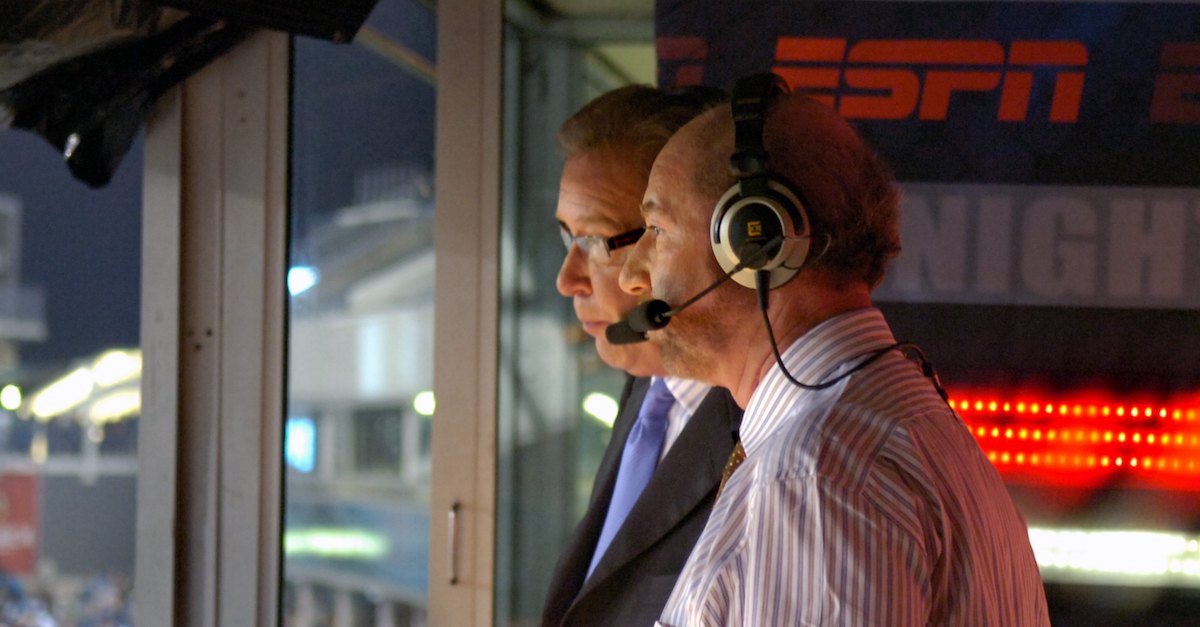 Al Messerschmidt/Getty Images
JACKSONVILLE, FL - OCTOBER 22: ESPN analysts Tony Kornheiser and Ron Jaworski check play as the Jacksonville Jaguars host the Indianapolis Colts at the Jacksonville Municipal Stadium on October 22, 2007 in Jacksonville, Florida. The Colts won 29 - 7. (Photo by Al Messerschmidt/Getty Images)
It has been approximately seven weeks since ESPN laid off a massive contingent of professionals in a move that rocked the network's coverage of several sports. One such league was the NFL, as long-time reporter Ed Werder was let go and there was a cloud of uncertainty building as a result.
With that said, the final results of that move may still be ongoing and long-time TV analyst Ron Jaworski is in the crosshairs. As part of an interview with "The Doomsday Podcast" with Matt Mosley and Ed Werder, Jaworski said the following about being "in limbo" with his contract right now.
"I wish I could give you a definitive answer, but I don't have one. I'm absolutely very grateful and thrilled to have worked at ESPN for 27 years. I still may continue to work at ESPN. I do not know what the future is going to hold. I still have a contract with them until May 31 of 2022, and if they choose to want to use me in some other areas, that is being talked about with my agent basically as we speak. So I'm a guy in limbo right now. But I do want to continue some broadcasting. I love what I do."
Jaworski joined the network in 1990 and, as he notes, is under contract for nearly five additional years. Still, he hasn't been told as to whether he'll be around in the future and that is a perilous situation to be in for anyone in any profession.
The 17-year NFL veteran has immense value on the open market should he become available, as Jaworski is well respected as an analyst that can dig deep to provide valuable insight. It will be very interesting to see how this situation plays out in the near future.